ITMA 2023
2023-06-01
Flexible warp knitting machine with weft insertion and more

Vertical urban greening with nets from weft knitting machines © 2023 KARL MAYER
At ITMA, the KARL MAYER GROUP will be exhibiting solutions for the topics that move its customers. For manufacturers of technical textiles, the KARL MAYER GROUP (Hall 4 B119) will be presenting a WEFTTRONIC® II G at the ITMA with new features and upgrades for even greater efficiency.
This warp knitting machine with weft insertion produces lattice structures from high-strength polyester, which are firmly established in the construction industry in particular. With a working width of 213", it offers unique productivity and further advantages through design innovations. New features include weft thread tension monitoring, management and the new VARIO WEFT laying system. The component for the weft insertion aims at maximum flexibility. It allows the patterning of the weft yarn to be changed quickly and easily electronically, without mechanical intervention during yarn insertion and without limits on repeat lengths. In addition, there is less waste. This means that the WEFTTRONIC® II G also scores points in terms of sustainability and costs.

WEFTTRONIC II G weft yarn tension monitoring © 2023 KARL MAYER
The KARL MAYER GROUP also supports its customers with well thought-out Care Solutions. The new support offers include retrofit packages for retrofitting control and drive technology for weft insertion and composite machines, and service packages that bundle various services. These include machine inspections and the replacement of all drive belts. The customer benefits from fixed prices that cover the costs of technician assignments, various discount options and transparent services.

A completely new solution for the vertical greening of cities Is presented from the field of application for technical textiles. The core of the innovation is a grid textile produced on warp knitting machines with weft insertion by KARL MAYER Technische Textilien GmbH. The knitted lattice fabric is made of flax.

It is used as a climbing aid for fast-growing plants, and after the greening phase, in autumn, it can be recycled together with these plants as biomass in pyrolysis plants to produce electricity and activated carbon. In summer, the planted sails lower the ambient temperature through evaporation effects.
In addition, photosynthesis creates fresh air and binds CO2. Other important advantages are low soil requirements and flexible placement in public spaces. The greening system was developed by the company Micro Climate Cultivation, OMC°C, with the support of KARL MAYER Technische Textilien.
The KARL MAYER GROUP will also be exhibiting a sustainable composite solution made from natural fibres. The reinforcing textile of the innovative lightweight material is a multiaxial non-crimp fabric, which was also produced from the bio-based raw material flax on a COP MAX 4 from KARL MAYER Technische Textilien. The boatbuilding specialist GREENBOATS uses natural fibre composites to achieve more sustainable products. The fact that it succeeds in this is shown, for example, by the Global Warming Potential (GWP): 0.48 kg of CO2 per kilogram of flax reinforcement compares with 2.9 kg of CO2 per kilogram of glass textile.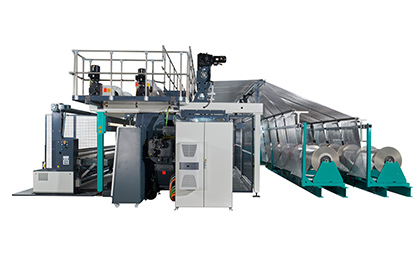 WEFTTRONIC II G © 2023 KARL MAYER
Related News
More News from KARL MAYER STOLL Textilmaschinenfabrik GmbH

Latest News