Yarn & Fiber
2022-09-07
At FILO fair Bemberg™ launches the revolutionary staple fibre

© 2022 FILO
Bemberg™ by Asahi Kasei expands its journey and evolution in contemporary style with a brand-new Staple-fibre that unlocks creative paths towards mew aesthetics, touch and sustainability. At FILO fair, the company proves it by unveiling a collection of t-shirts developed in collaboration with the MagnoLab smart network of Italian companies. Circular economy and environmental responsibility meet aesthetic research with a collaborative imprint.
THE YARN - On the occasion of the 58th edition of FILO, the international trade show and business platform dedicated to premium collections of yarns and fibers with a sustainable and ethical imprint, world-leading innovator and manufacturer Bemberg™ by Asahi Kasei breaks ground with its Staple fibre, a new yarn range that expands the company's realm of applications for the fashion and luxury industry, including also knitwear, jersey and casualwear.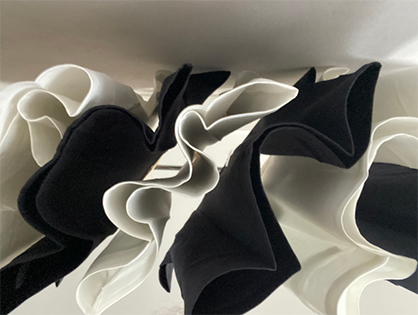 © 2022 FILO
"We are extremely happy to be at FILO with a new Bemberg™ yarn in staple form and within a project that speaks of an innovative supply chain focused on new look and touch together with environmental and social responsibility dimensions and meeting highest quality standards." Says Ettore Pellegrini, Marketing & Sales Manager of Asahi Kasei Fibers Italia.

Indeed, the fibre comes with a circular economy footprint obtained from cotton linters through a closed-loop process. Bemberg™ also ensures certified sustainability credentials through its transparent and traceable approach.

THE MAGNOLAB PROJECT is the name of the new t-shirt collection created in synergy with MagnoLab, a network of Biella-based companies bringing forward initiative and collabs related to sustainability and circular economy. Staple-fibre is the top ingredient of the collection. The cut t-shirts are presented both in sheer and blends with other certified fibers, including GOTS cottons and RWS wools, capable of enhancing both the hand of the final garment and the performance of the brand-new yarn.

"This collaboration tunes with our development strategy in Italy, a country of textile excellence, and the expansion of Bemberg™ fiber in the contemporary wardrobe." Continues Pellegrini. "Never before collaboration between companies has been as crucial as it is today. The last few years taught us that building networks is the key to collective and conscious success, capable of activating true change."

Related News
More News from TEXDATA International

Latest News