Knitting & Hosiery
2022-05-05
Mayer & Cie. launches upgrade kits

At Mayer & Cie.'s R & D department, colleagues are working towards improving existing technologies. Using the new upgrades kits customers can benefit from these enhancements. Foto: Ralph Koch für Mayer & Cie.
This month, the circular knitting machine manufacturer Mayer & Cie. is launching its upgrade kits for circular knitting machines that are already successfully in use by customers. With tailor-made packages, the company wants to give its users the opportunity to take advantage of technological progress in their existing machines.
Rejuvenating existing circular knitting machines with a lean budget

The aim is to improve the performance of the existing machines and to extend their service life. In addition to the machine-specific upgrade kits, the company now starts offering tailor-made spare parts packages. They are intended to ensure machine availability and equip customers with spare parts for standard situations. In addition, they offer a degree of independence from possible failures in the supply chain and rising transport costs.
Longevity, a popular product property

"Longevity of our circular knitting machines is definitely a property that our satisfied customers mention regularly", Mayer & Cie. sales director Wolfgang Müller says. The company estimates that up to 50 percent of all the circular knitting machines it has ever made are still around in the market somewhere.

Upgrades boost performance and value

Value retention, maintenance and upgrades for existing machines are a key issue for the company – and for the customers who successfully use existing Mayer & Cie equipment. That's why the company recently launched customised upgrade kits to improve the long-term performance of machines. Frank Stuhrmann, head of the spare parts, Mayer & Cie, adds: "In our development department, we are constantly working on improving existing machines and their components, and we would not want to withhold this progress from our existing customers."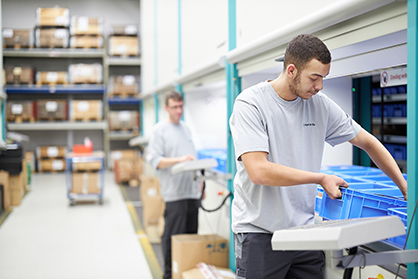 Central warehouse at Mayer & Cie. in Albstadt-Tailfingen: Spare parts at the ready. Foto: Ralph Koch für Mayer & Cie.
Stuhrmann and his team have found that existing machines have a firm place in the machine park and that operators do not wish to replace them anytime soon. He says: "This means it makes much more sense to help our customers to enhance the properties of their existing machines, rather than to offer them a completely new machine."

Low budget, clear benefit

Compared to a new machine, upgrade kits are a low-cost investment that deliver clearly defined benefits. For example, an improved yarn guide ensures a significant increase in the plating reliability and output of the machine in question.

Most of the upgrade kits is machine-specific; the aforementioned yarn guide ensures a boost in productivity for the Relanit 3.2 II and Relanit 3.2 S. For S4 machines an optimised fluff blowing device can be the solution. It ensures that less fluff is knitted in and thereby improves the fabric quality. It also reduces downtimes that would otherwise be required for cleaning. Upgrade kits suitable for most Mayer & Cie. machines are the edge trimmer to open a fabric hose before the fabric's rolling-up and the laying facility for high-quality hose fabric.

General benefits of the upgrade packages also include a perfect fit for individual machines, a long-term security investment and upgrade warranties.

Spare part packages: Inside is what is required

In addition to individual upgrade kits Mayer & Cie. now offers spare parts packages. They too are customised for individual machines. When purchasing a machine, the customer can also order a small or a large spare parts package. Selected specially for the machine in question, it contains the most important consumables and spare parts. "We are all familiar with the situation," Frank Stuhrmann says. "You are in a tight corner and urgently need a spare part that is then not available. The best-case consequence is unnecessary stress, and the worst case is missed delivery dates."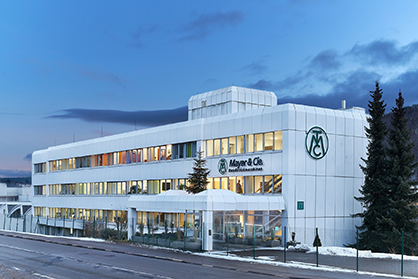 Mayer & Cie. headquarters in Albstadt-Tailfingen, Germany. Foto: Ralph Koch für Mayer & Cie.
The new spare parts packages are designed to reduce these situations to a minimum and to ensure instead that the customer is equipped to deal with at least the standard cases. They also increase customers' independence of supply chain failures and rising transport costs.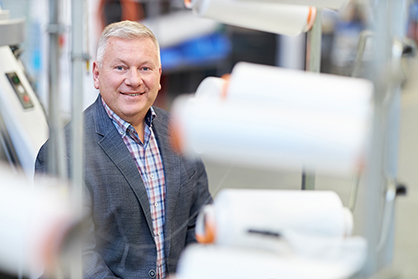 Frank Stuhrmann heads the spare parts department at Mayer & Cie. Foto: Ralph Koch für Mayer & Cie.
Related News
Latest News Knitting & Hosiery
More News from Mayer & Cie. GmbH & Co.

Latest News