Weaving
2018-12-06
Customer Portal Weaving - just a click away
The Customer Portal Weaving opens up the Groz-Beckert weaving digital service world. Groz-Beckert customers not only benefit from a wealth of additional services for their weaving business, but also have access to a wide range of product information, as well as the products they are looking for.
Which product best suits my needs? The comparison function can help customers answer this question. All the necessary product information can be accessed quickly and they receive an overview of the differences and similarities between the potential products. The customer portal also offers a wealth of information on weaving technology. For Groz-Beckert customers the Customer Portal Weaving is available free of charge.
The Customer Portal Weaving makes buying products even easier and more convenient – customers can now order their chosen products around the clock. Once they have registered, they can place their orders with just a few clicks. A detailed product description, images and information are available to help them select the best product.
Via a personal account, customers can manage orders and invoices, as well as shopping list and order templates, directly in the customer portal – this saves time and ensures that they always have a clear overview.
With the wide selection of order options available, it's up to the customers whether they place their order directly from the product catalog, via direct order or Excel upload. They also benefit from up-to-date price and shipping information.
Customers can register for the Customer Portal Weaving online at any time. After receiving the personal access data, they can log in directly worldwide at any time.
http://my.groz-beckert.com/weaving
A wide range of products is already available online in the Customer Portal Weaving.

1. Product catalog healds - products for manufacturing most diverse fabrics
Flat steel healds
Narrow weaving healds
Rolled wire healds
TWINtec healds
Jacquard healds
RONDOFIL® healds
Leno healds
Repair healds
2. Product catalog drop wires - products for reliable monitoring of warp threads3. Product catalog drawing-in hooks - products for manual drawing-inwarp threads3. Product catalog drawing-in hooks - products for manual drawing-in
3. Product catalog drawing-in hooks - products for manual drawing-in
Drawing-in hooks
Reed hooks
Customer Portal Weaving - the online platform for weaving mills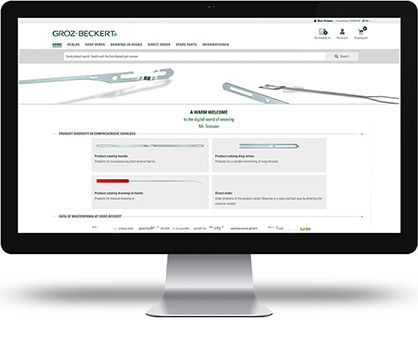 The customer portal welcome page is the perfect starting point (c) 2018 Groz-Beckert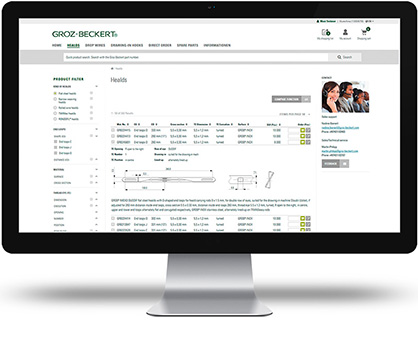 A look into the product catalog healds (c) 2018 Groz-Beckert
Advantages at a glance:

The "Information" menu item with a wealth of tips and additional information
Find products quickly – thanks to the special search and filter functions
View prices and custom terms and conditions of purchases placed online
Order your selected product easily and conveniently online
View your individual order history & plan future orders today – with the useful shopping list
Manage personal details securely
Related News
More News from Groz-Beckert KG

Latest News