Smart Textiles
2022-11-17
Textile ETP and SmartX Community members at MEDICA
On 16 November, Textile ETP and SmartX Community members gathered at the International Health Trade Fair MEDICA, in Dusseldorf, Germany,
At MEDICA, Textile ETP's Project Manager Judith Bosch had the opportunity to visit the various stands and discuss the latest smart textile developments and innovations, and above all, meet with the Community Members:

Innovation Lab, German expert in printed and organic electronics with a focus on flexible printed and organic sensors, displayed their stretchable heating ink & printed electronic batteries

CeNTI, Portuguese institute of new technologies promoting activities of tesearch, technological development, innovation and engineering in the fields of smart and functional materials and systems, presented their latest developments in smart medical wearables.

Elitac Wearables, Dutch Research and product development company, showcased their key products the balance belt for vesicular loss.

MEDICA is a leading international meeting for the medical community that showcases the latest technological advancements in the healthcare sector. The event showcases a rich portfolio of medical products, including digital care, innovative substances, and IT systems and solutions, and brings together manufacturers of medical, orthopaedic and laboratory technology, medical furniture commodities and consumables.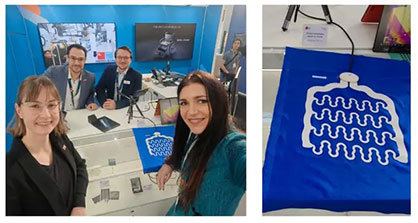 © 2022 Textile ETP
Related News
Latest News Smart Textiles
More News from TEXDATA International

Latest News