Nonwovens / Technical Textiles
2023-06-01
High up with green nets
Scalable and seasonal. An efficient greening solution from OMC°C improves urban climate.
Cities are particularly affected by the consequences of climate change. Due to their large-scale concrete surfaces, they heat up more than their surroundings in summer – urban heat island (UHI) - and are full of fine dust and noise. This is happening at an increasing rate. The proportion of people living in densely built-up areas rose from 34% to 54% between 1960 and 2014.

To improve the quality of life, metropolitan areas can be vertically greened. Large-area plant carpets in front of buildings and in open spaces enable a reduction of fine dust pollution in a street canyon usually by 10 to 20 %. The sound level from ambient and traffic noise sources can be reduced by up to 10 dB(A) if the distance from the noise source is sufficient.

Furthermore, the proportion of green spaces has an influence on the UHI, along with other city-related parameters such as solar radiation, the ratio between height and width of street canyons, and thermal mass. For very dense urban centers such as Hong Kong or Melbourne, temperature reductions due to urban greening of up to 10°C have been modeled /1/.

Plants also produce O2 and sequester CO2. At its peak productivity, a tree can absorb up to 60 kg of the climate-damaging gas per year /2/.

In addition to these positive effects, green facades offer another invaluable advantage in view of the densely populated inner cities: they require almost no ground area for growth.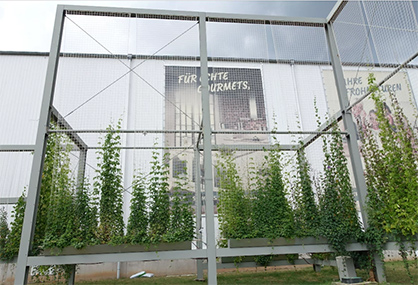 © 2023 KARL MAYER
The Office for Micro Climate Cultivation, or OMC°C for short, shows how this can be done.

The young company is developing a scalable, seasonally managed product system for the vertical greening of urban spaces and is focusing on a series solution. "Through the modular and flexibly adaptable design, we create serial greenery and bring shady and cooling biomass into cities," says Nicola Stattmann, Director & Founder / Product Development & Technology of OMC°C.

The innovation is based on annual, fast-growing climbing plants and nets made of flax, which were produced on a warp knitting machine with weft insertion from KARL MAYER Technische Textilien. At ITMA 2023 in Milan, the KARL MAYER GROUP will be showing a greened net on its stand, in Hall 4 / B 119 in the Fiera Milano Rho.

Scalable modules and seasonal greening

OMC°C's greening system is as effective as it is cost-efficient. The climbing plants used are newly planted in spring and climb up to 7 m high on textile nets in lightweight modules until fall. A module comprises six nets and is 10 m high, i.e. three stories. The combinable plant sails are ideal for the demanding task of urban greening. They can be placed flexibly and freely in public spaces, take up a minimum of ground space and improve the urban climate. Evaporation effects can noticeably lower the ambient temperature in summer per module. In addition, the plants produce fresh air through photosynthesis and bind CO2, even beyond their seasonal use. Under the motto "Value instead of Waste", the biomass, including the net, is uninstalled in the fall and recycled in pyrolysis plants to produce electricity and activated carbon.

Nets from warp knitting machines with weft insertion

The nets for the innovative greening system are made of the renewable raw material flax. Why? "Flax fibers are available in sufficient quantities in Europe and are ideally suited for our special application," answers Carlotta Ludig, Director & Founder / Operations & Finance of OMC°C.

Like sails, the nets made of flax are hoisted in the spring, in the summer they are greened and in the fall they are hauled in together with the climbing plants, i.e. harvested. For this purpose, the grid textiles offer biodegradability, sufficient light transmission and low weight. In addition, the mechanical performance is right. At the University of Lucerne, the nets were successfully tested in a wind tunnel at 170 km/h, i.e. at hurricane force.

Carlotta Ludig and her team worked together with the KARL MAYER GROUP, the world market leader in the manufacture of net raschel machines, among other things, to develop the innovative climbing aids. Initial discussions with their textile specialists quickly made it clear that a warp knitting machine with weft insertion was best suited to the special requirements. "In order to achieve the desired high mechanical strengths, the flax yarn plies have to be integrated into the textile in a stretched manner," explained Kay Burkhardt, application engineer at KARL MAYER Technische Textilien. The WEFTTRONIC® II G is predestined for processing the natural fiber material in the weft area and a compostable PLA material as the warp thread. The sophisticated production equipment is characterized by gentle handling of the yarns, high product quality and top values in terms of efficiency. In addition to the net structure, the necessary edge reinforcements are produced directly on the machine.

Diverse use scenarios

Target groups for OMC°C's greening solution are municipalities, companies and the construction industry.

Municipalities need to green neighborhoods, squares and traffic routes in order to achieve their climate goals and offer their citizens quality of life. Companies can meet municipal building requirements by greening plant buildings or facilities. It also provides an opportunity to save on air conditioning costs and implement their own sustainability goals. The greening solution from OMC°C is interesting for new buildings as well as for existing properties.

In the real estate industry, sustainable construction is currently the largest growth market. The demand for climate-neutral buildings is constantly increasing.

More on the subject

Interested people can find out more about the innovative OMC°C greening system on the KARL MAYER booth at the upcoming ITMA in Milan. In addition, a prototype is currently being installed behind the Senckenberg Natural History Museum in Frankfurt am Main. The museum and the German Weather Service want to research the extent to which the plant sail influences the microclimate and the growth of living organisms. OMC°C has special ties to the Main metropolis. Last year, Carlotta Ludig and Nicola Stattmann were honored at the Frankfurt Founders' Prize. The two founders look forward to receiving inquiries at office@omc-c.com.

/1/https://www.arup.com/perspectives/publications/research/section/cities-alive-green-building-envelope

Related News
Latest News Nonwovens / Technical Textiles
More News from KARL MAYER STOLL Textilmaschinenfabrik GmbH

Latest News