ITMA 2023
2023-03-30
Mayer & Cie. will show a braiding machine at ITMA 2023

Assembly at Mayer & Cie. in Albstadt-Tailfingen. Photo: Ralph Koch for Mayer & Cie.
When ITMA opens in Milan on 8 June 2023, the textile machinery manufacturer Mayer & Cie. will be there for the first time with both of its business units: circular knitting machines and braiding machines. Along with the circular knitting machines Mayer & Cie. is exhibiting a braiding machine at its stand E101 in Hall 2. The company focuses on similar features in both areas: sound machines fitted out with solutions that make braiders and circular knitting machines more efficient, longer-lasting and thereby more valuable.
The solutions range from upgrade kits for individual machines and innovations to reduce waste zo digital solutions that improve the customer experience.
Mayer & Cie. is to focus on longer life and greater efficiency at ITMA

A tried and trusted choice: circular knitting machines from Mayer & Cie.

Mayer & Cie. will be exhibiting three circular knitting machines at ITMA: the revised OVJA 2.4 EM and Relanit 3.2 HS and the new three-thread fleece SF4 3.2 III. All three serve classical uses and, except for the new SF4-3.2 III, are established in the market.

The OVJA 2.4 EM knits double jacquard with electronic individual needle selection in the cylinder and double fabric with weft thread. It is currently the most productive machine in its class. Spacer fabric has now been added to its portfolio.

Machine number 2 is a byword for every knitter. For ITMA 2023 Mayer & Cie. has fitted out the existing Relanit 3.2 HS with improved yarn guides. It has a needle with an optimised hook and tongue shape and a pre-determined breaking point to improve safety at higher output. The new sinker is another feature of the Relanit 3.2 HS. It makes the machine run smoother and reduces wear and tear. "Many knitting mills all over the world already swear by Relanit machines," says Axel Brünner, head of product management at Mayer & Cie. "For them and new customers we are working on further improvements to our bestsellers."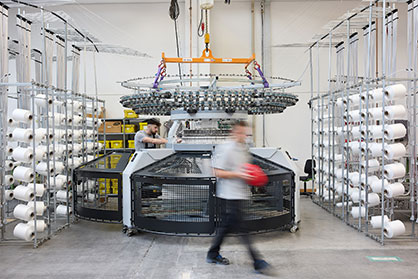 Quality, upgrades, spare parts and service: Key components for long machine life. Photo: Ralph Koch for Mayer & Cie.
With the third machine on show Mayer & Cie. is addressing a major trend in the clothing industry. The SF4-3.2 III for three-thread fleece, especially for leisurewear, both in pure cotton and in blends, is in great demand. As Axel Brünner explains, "In this new machine we combine our tried and trusted MBF 3.2 and components of our MFC 3.2 that have proved advantageous in the Chinese market."

Brisk braiding: Extra-speed machine for textile braid

The MR-15/18 C/Single Deck braider on show at ITMA is designed for textile braiding. It comes with the new capstan wheel pull-off that is especially suitable for smaller-diameter hoses with textile braiding. The SpeedBooster upgrade kit delivers more speed and up to ten per cent more output.

Smart upgrades for long, efficient machine life

Longer, faster and with even greater precision, upgrade kits enable customers to benefit from technical progress at Mayer & Cie. The upgrade portfolio ranges from speed boosters to special plaiting and laying equipment. Another newcomer is spare parts with upgrade kits customised for individual machines. They deliver additional production and planning safety.

Upgrade kits – like all known spare parts – are available from the web shop. Along with an easy-to- use search function the web shop provides smart additional functions and includes the new loyalty programme my.loyaltyclub with attractive discounts.

Smart functions: knitlink, knithawk and Control 5.0

Fewer faults and less waste is the simple truth. The new knithawk recognises and identifies knitting faults fast during the knitting process, switching the machine off automatically. That makes production significantly more sustainable and efficient.

knitlink is the platform that links the manufacturer, representatives and customers. It is IIoT-based and the central location for all machine data that every customer can use to record and evaluate the performance of his machines. It is also a repository for documents such as operating instructions, manuals and spare part recommendations. In addition, knitlink provides every customer with remote access to the circular knitting machine.

knitlink incorporates the web shop, which is digitally linked to the new-generation Control 5.0. Circular knitting machines with Control 5.0 are IoT-enabled and can inter alia be operated from mobile devices, so the knitter no longer needs to be physically at the controls.

A sound choice: Opting for Mayer & Cie. pays off

"With our ITMA presentation we show why and how investing in Mayer & Cie. machines is worthwhile and pays long-term dividends," says Mayer & Cie. CEO Benjamin Mayer. "Last but not least we thereby also respond to the desire for more sustainability in the use of resources."

Related News
More News from Mayer & Cie. GmbH & Co.

Latest News