Retail & Brands
2022-09-22
Lee® and Wrangler® Jeans to open a joint denim store in Berlin, with more European flagship stores to follow

© 2022 Kontoor Brands / Lee
Lee and Wrangler jeans are set to join forces to launch a denim store in Berlin. The new dual-branded store will offer consumers the ultimate denim experience, a retail concept that will be further introduced in select markets across Europe.
"Europe continues to be a key market for expansion for the Lee and Wrangler Brands. The new Lee and Wrangler dual-branded stores will create a powerful platform for our iconic denim brands to excite and engage our growing European consumer base," said Chris Waldeck, EVP, Co-Chief Operating Officer, Global Brand President, Lee. "In the coming months, you can expect to see additional Lee and Wrangler stores in top retail destinations across Europe as we continue to introduce our brands' iconic designs and unrivalled denim heritage to new audiences."

The expertly crafted retail destinations will offer consumers an immersive experience with products from both brands and the opportunity to engage with Wrangler and Lee in a curated retail environment that brings to life the unique characteristics of each brand. The stores will carry a dual fascia with separate windows and frontages for each brand, unified by a design concept that underscores the brands' combined 200-plus years of denim expertise.

The concept focuses on the brands' commitment to creating an unrivalled denim destination. Products from the two iconic heritage brands will be offered, delivering high quality collections and fit expertise to shoppers.

At the Berlin store, consumers will find jeans from both brands merchandised by gender and fit categories in the store's main area, with a range of apparel options complementing the jeans. The customer journey then leads to a specialised denim room, which houses a wider variety of denim on a seven-shelf stack. This in turn leads to the fitting rooms, kitted out with brand imagery.

Throughout the store, heritage materials and imagery will be used to illustrate the brands' distinct personalities. This will feature a premium archive-driven feel for Lee Jeans, including a capsule area for the premium Lee 101 range. A bold, youthful, style will be used to evoke the spirit of Wrangler with a mixture of vivid red and indigo blues in the visuals.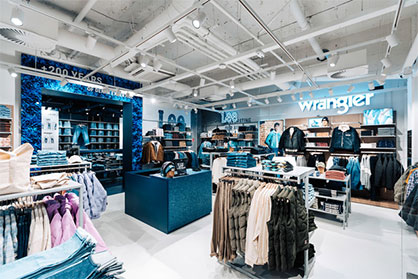 © 2022 Kontoor Brands / Lee
Meanwhile, an overarching grey and blue concept will unify the design. This will include denim-look arches across the entrance to the store and the denim room. Innovative materials include the use of recycled denim on the cash register.

Designated windows will always carry each brand's current campaigns.

The Berlin store opened on the Tauntzienstrasse, a major shopping street in the City West area. It has a footprint of c. 150sq m and will be followed by an initial roll out of openings at key high-traffic shopping districts in a curated selection of European cities.

Lee and Wrangler Jeans are owned by Kontoor Brands.

Related News
Latest News Retail & Brands
More News from TEXDATA International

Latest News