Spinning
2018-08-09
"We achieved another quarter of excellent performance, recording strong growth in orders, sales and operating profitability," said Dr. Roland Fischer, CEO Oerlikon Group. " Our Manmade Fibers Segment recorded another quarter of strong results, substantially increasing both orders and sales and significantly improving EBITDA margin."
...more
Spinning
2018-08-02
Savio will exhibit in Shanghai energy saving and industry 4.0 solutions in the winding segment: Polar Evolution and Eco PulsarS winding machines, plus an industry 4.0 corner with smart solutions for mill monitoring. Since 1911, the Italian manufacturer Savio is specialized in the yarn-finishing segment, being the leading supplier of winding, twisting and rotor spinning machines, with manufacturing plants spanning over Italy, China, India and Czech Republic.
...more
Spinning
2018-07-24
For decades the USTER® Tester has been the indispensable driver of quality in yarn manufacturing and celebrates its 70th anniversary this year, and its unique reputation as a driver of textile quality worldwide is stronger than ever. Even in its earliest version, this remarkable instrument was a big hit with spinning mills, inspiring a new focus on yarn quality.
...more
Spinning
2018-07-23
The new Autoconer X6 represents a quantum leap in process automation. With its revolutionary Bobbin Cloud material flow system based on radio frequency identification (RFID) technology, the Autoconer X6 takes a definitive step towards Automation 4.0 in the winding field.
...more
Spinning
2018-07-20
Developed and manufactured in Switzerland – this is one of the key USPs of products from Loepfe Brothers Ltd. Today the company announced a substantial investment in the extension of its headquarters in Wetzikon, Switzerland. Construction of the new headquarters building, which will add two additional stories on top of the existing production building, started earlier this month. With a total of 2,500 m2 floor space it will have enough room for some 60 offices in combination with modern meeting facilities and a canteen for the employees.
...more
Spinning
2018-07-19
Rieter's sales increased to CHF 515.3 million in the first half of 2018, an increase of 24% compared to the previous year period (first half year 2017: CHF 415.2 million). This increase resulted from the organic growth of the Business Groups Machines & Systems and After Sales and the acquisitive growth of the Business Group Components.
...more
Spinning
2018-07-18
Oerlikon (SIX: OERL), a leading technology and engineering group, and RUAG Space, a division of the technology Group RUAG, will sign a Memorandum of Understanding today during the Farnborough Airshow to qualify and accelerate series production of 3D printed space components.
...more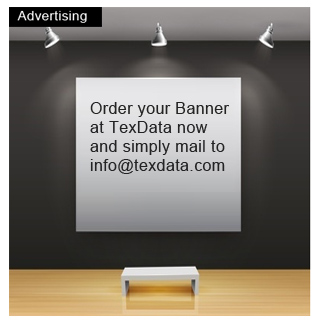 News of the last month
Spinning
2018-05-31
The market for nonwoven products is forecast to continue its growth trend, through both rising world population and the development of innovative products. EDANA (the European Disposables and Nonwovens Association) also sees per capita consumption almost doubling to 1.62 kg in 2020, compared to 0.96 kg in 2009.
...more
Spinning
2018-05-24
Oerlikon announced today that the company will continue to align their Manmade Fibers Segment product portfolio with the future of innovative Industry 4.0 plant solutions putting greater focus on their core business of filament, staple fiber and nonwovens. As a result, the corporate group will divest their technology solutions for tape and monofilament plants.
...more
Spinning
2018-05-18
In the first four month SSM Schärer Schweiter Mettler AG attended eight exhibitions around the world. In Colombia, Bangladesh, Japan, Russia, Indonesia, Vietnam, Turkey and Pakistan SSM could convince the interested visitors about their solutions for yarn processing and winding.
...more
News Archive