Exhibitions & Events
2018-11-09
Glass and carbon fibre reinforced plastics are in demand when lightweight and forward-looking solutions are called for. This trend towards lightweight construction is currently one of the strongest drivers for the composites industry. Just as strong are the impulses generated by the composites sector itself: the major technological advances in the manufacturing and processing chain enables this sector of industry to increasingly automate and shorten manufacturing processes.
...more
Exhibitions & Events
2018-10-10
Europe is the undisputed world leader for textile machinery. Before the flagship ITMA 2019, four Machinery Manufacturers Associations, AMEC of Spain, SYMATEX of Belgium, BTMA of Great Britain and UCMTF of France, have taken the initiative to organize a roadshow in Mexico. More than 18 manufacturers have joined. On the Mexican side, the initiative has also received a strong support from CANAINTEX and CITEX.
...more
Exhibitions & Events
2018-10-09
From 15 – 17 October, more than 500 exhibitors from 14 countries & regions will showcase an unrivalled range of yarn & fibre products in hall 8.1 at the National Exhibition and Convention Center. These exhibitors, as the largest gathering ever seen at the fair, are set to welcome a wide variety of visitors throughout the textile supply chain next week, solidifying the status of Yarn Expo as the leading first stop of every textile sourcing season. The fair will take place this edition alongside ITMA ASIA + CITME.
...more
Exhibitions & Events
2018-10-08
Digitalization is driving the fashion industry onwards – new technological solutions are rapidly changing familiar processes and procedures. At the PI Apparel trade fair in Milan on 11th and 12th October, Assyst will demonstrate the range of opportunities that is opened up by the 3D simulation software Vidya in product development and beyond. Dr. Andreas Seidl will be speaking about digitalization strategies.
...more
Exhibitions & Events
2018-08-09
In April 2018, a Memorandum was signed between Iteca Exhibitions the International Exhibition Company and recently established Uzbekistan Textile and Garment Industries Association on joint organization in September 5-7, 2018 of the 1st International Uzbek Textile and Fashion Industries Exhibition - UzTextile Expo in Tashkent.
...more
Exhibitions & Events
2018-07-27
Leading computerized knitting machine manufacturer SHIMA SEIKI MFG., LTD. of Wakayama, Japan, together with its sales representative in India VOLTAS LIMITED, will participate in the 4th India International Footwear Fair in New Delhi, India next month.
...more
Exhibitions & Events
2018-07-25
Adorned with the most attractive collections from 165 exhibitors and more than 300 brands, Ambiente India and Heimtextil India put on a spectacular show this June attracting 7,059 trade buyers and design professionals. The co-located platforms have earned a repute among buyers for quality product sourcing and its business-focused design content.
...more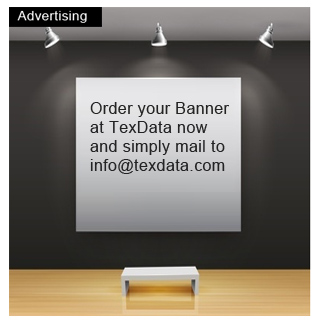 Older News

Exhibitions & Events
2017-06-20
Asia's yarn and fibre market is going through a period of substantial change at present, and Yarn Expo is at the heart of it all. The leading trade platform in the region will more than double in size this October, expecting its exhibition space to expand by 115% as more companies recognise its effectiveness to mirror the latest industry trends as well as attract a truly global audience: last year's autumn edition drew trade buyers from 77 countries & regions. Around 400 companies, up from 319 last year, are predicted to exhibit this edition.
...more
Exhibitions & Events
2017-06-20
At the upcoming edition of CAITME, to be held in Tashkent, Uzbekistan from September 13 to September 15, 2017, 16 Italian textile machinery manufacturers will exhibit in the common area set up by the Italian Trade Agency and ACIMIT.
...more
Exhibitions & Events
2017-06-19
This week's China International Nonwovens Expo & Forum (CINE, supported by Techtextil) is, like the technical textiles industry in China as a whole, continuing to benefit from the government's 13th Five-year Plan which has boosted production capacity and demand for nonwoven products in the country.
...more
News Archive