Yarn & Fiber
2023-03-02
New member for the IWTO: Datini Fibres
The International Wool Textile Organisation (IWTO) welcomes its newest member, Datini Fibres, calling the innovative materials science company based in Karachi, Pakistan, a wonderful addition to the IWTO family.
Who is Datini Fibres?

Datini Fibres was founded with the purpose of recycling post-consumer wool waste, turning it into new, reusable wool fibres. The company sums up its philosophy as follows:

"We believe humans are a part of nature. Our place within it is to support and protect the abundance it offers. Wool is one of the oldest natural Fibres, and is a gift to us from nature. Growing and harvesting wool takes great care from humans to treat it as a beautiful resource. We believe part of this caring system is to re-utilize wool at the end of its cycle. This supports a holistic mindset for the protection of natural resources, and future generations."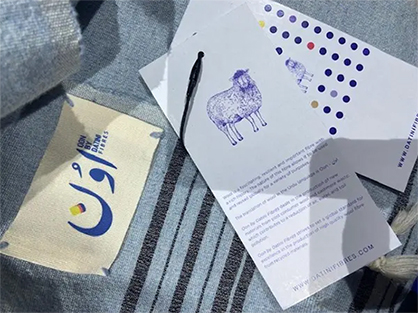 © 2023 IWTO
Datini Fibres operates from an acute consciousness of the responsibility we all have to prevent climate change. Keeping in mind the rate of change and the short time left to act, the company believes in urgent action to make the best use of the resources available to all of us. Datini's core aim is to re-utilize global post-consumer wool waste and give it a second life by recycling it into new raw material.

What does Datini Fibres do?

How does Datin Fibres carry out its commitment to recycling natural fibres? It performs and supports textile-recycling processes that save water and energy, and reduce carbon emissions. The company recycles fibres into new colour ranges without using any dyes or other chemicals. Its line of recycled wool is simply called OON (the Urdu word for wool). It strives to set a high standard for excellence in the production of wool fibres.

Datini Fibres is currently planning to build a research lab in joint collaboration with Wool Alliance for Social Agency (WASA) – the first of its kind in wool research. The initiative will bring together local and international researchers in a variety of related fields, including art, design, social and science, with the aim of "re-imagining the wool value chain" for increased sustainability.
Related News
More News from TEXDATA International

Latest News