Sustainability
2022-09-12
At the Filo fair, C.L.A.S.S. weaves new sustainable paths against green washing and to activate change
"We are very happy to participate to Filo, the fair dedicated to the fashion world's key ingredient, the starting point of creativity but also of sustainability. Because it is precisely from the yarn that the change in the system is triggered." Commented Giusy Bettoni, CEO of C.LA.S.S.
"At the fair we will bring our expertise, gained since 2007 to date, and our research services on smart materials, processes, measurements, as well as marketing activities and next-generation communication to give voice and activate real values and paths of responsible innovation. With us also some of our most innovative and responsible partners, agents of change and virtuous case histories against green washing."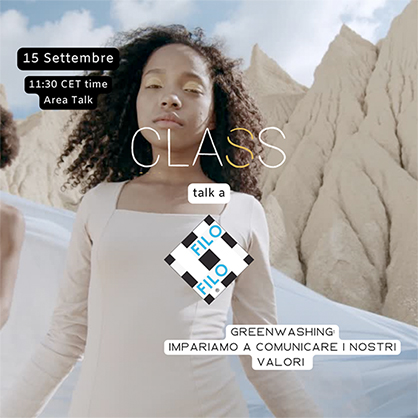 © 2022 C.L.A.S.S.
FILO: Booth D8 - 14-15 September 2022, Milan

Talk: Thursday 15 September h. 11.30am

At the D8 booth, C.LA.S.S. presents smart materials and tells its story by introducing its services to support companies on their sustainable journey, from responsible innovation to smart materials, from processes, certifications and measurements to marketing and communication activities. C.L.A.S.S. partners at Filo are Bemberg™ by Asahi Kasei, Ghezzi, ICA YARNS, company belonging to the Albini Group, e SUPREME GREEN COTTON® by Varvaressos.
"Story making without story telling is greenwashing. Story telling without story making is greenwashing" Continues Giusy Bettoni who will give the talk "Greenwashing: let's learn to communicate our values!" on September 15 at 11:30 am. "The yarn is the real starting point of the whole system. Communicating its real sustainability is the weapon against the scourge of greenwashing and misinformation but also the winning tool to gain a real competitive advantage in the market."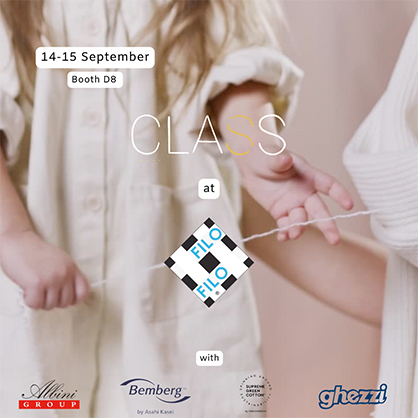 © 2022 C.L.A.S.S.
Related News
More News from TEXDATA International

Latest News