Spinning
2023-02-23
Increasing Competitiveness with COMPACTeasy

COMPACTeasy installed on a ring spinning machine G 32 with 1440 spindles © 2023 Rieter
Jiangyin Huaxi Textile Co. Ltd. is located in Jiangyin, Wuxi City, Jiangsu Province, China and produces cotton combed ring yarn. The customer was facing twin threats: an increase in competition for cotton combed ring yarn and rising production costs. After a thorough analysis, the Rieter after sales team installed COMPACTeasy on the company's existing ring spinning machines G 32. This upgrade increased the yarn production output by 6% while improving the yarn quality significantly.
The challenge

Jiangyin Huaxi produces Ne 16 to Ne 40 cotton combed ring and compact yarn. The customer faces huge competition due to the rise in production costs and inferior quality of ring yarn with regard to higher hairiness. Jiangyin Huaxi saw that compact coarse count yarn has more margin and market opportunities. Adding a compacting system was a potential solution. However, combing preparation presented some challenges. The OMEGAlap E 35 delivered too little material for continuous production of coarse compact yarns on the ring spinning machine. The limited delivery speed of the OMEGAlap E 35 therefore restricted the utilization of the G 32 ring spinning machine, which made production less profitable.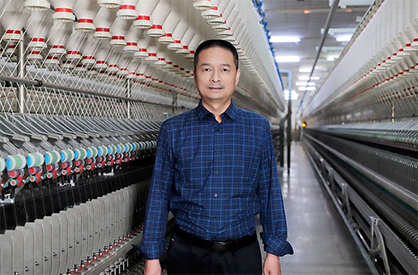 Zhou Weiran, Mill Manager of Jiangyin Huaxi Textile Co. Ltd. © 2023 Rieter
The solution

The Rieter after sales team implemented two major upgrades at Jiangyin Huaxi to overcome these challenges.

COMPACTeasy, a mechanical compacting device, is suitable for the existing ring spinning machine G 32 with 1 440 spindles. Compacting is done mechanically in the y-channel and leads to excellent yarn characteristics. COMPACTeasy provides the customer with an advantage by increasing productivity and improving the yarn quality. It needs no additional energy, making it an attractive investment. Also, the easy plug-in and plug-out system provides much-needed flexibility.

OMEGAlap E 35+ upgrade, which includes the latest drive and electronics from E 36, significantly increases production output for maximum ring spinning utilization. The cost-effective upgrade saves additional investment on new machines.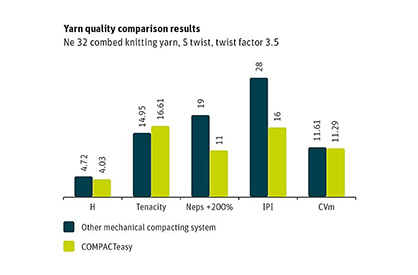 COMPACTeasy achieves better yarn quaity compared with other mechanical compacting systems © 2023 Rieter
The customer's benefits

After implementing COMPACTeasy and E 35+ upgrades, the mill production has increased by 6%. The yarn quality parameters like hairiness, tenacity, neps, imperfections and yarn evenness CVm clearly showed an improvement compared to other mechanical compacting systems (Fig. 1).

The production of OMEGAlap has increased by 21% thanks to the E 35+ upgrade. The delivery speed increased to 200 m/min from 170 m/min and the lap change time was reduced to 36 seconds from 49 seconds. This adds a minimum of 300 tons of yarn per year. And it enables flexibility to run coarse yarn counts when required. Meanwhile, with the increased production, mill utilization gets better and the labor cost per kilogram of yarn is decreased.

The compacting device can be easily retrofitted onto existing machines. This conversion significantly boosts flexibility in ring and compact yarn production. Jiangyin Huaxi's ability to recognize the demanding needs of the market enabled the company to seize opportunities and win more business.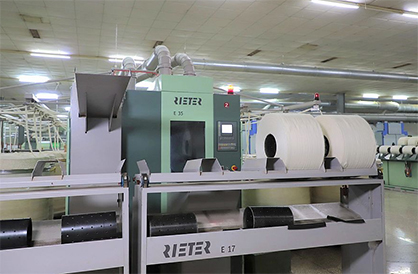 OMEGAlap E 35+ upgraded machine working at 200 m / min delivery speed © 2023 Rieter
"COMPACTeasy helped us spin ring and compact yarn with more flexibility and ease to changeover. It is a zero-energy compacting device, as there is no additional suction motor. COMPACTeasy provides better yarn quality and less yarn breakages while reducing maintenance costs. The E 35+ upgrade makes the mill production balance more flexible and it significantly reduces labor and operational costs. Most importantly, the Rieter after sales solution helps us improve our competitiveness a lot."

Zhou Weiran, Mill Manager of Jiangyin Huaxi Textile Co., Ltd.

Related News
More News from Rieter Textile Systems

Latest News