Research & Development
2022-11-03
NIRI investing for greater sustainability and innovation

© 2022 NIRI
NIRI is committed to our investment strategy and recently made significant new additions to our spray bonding capabilities. NIRI's complete pilot-scale prototyping facilities already assist many of our customers across multiple sectors, and the new equipment will further enhance our ability to develop unique products and enhance and improve existing lines.
Bespoke engineering

The new equipment was custom-built for the requirements of NIRI's clients and is intended for the application of binders to both high and low loft fabrics. It includes a dedicated spraying rig for continuous and pilot-scale binder applications. The EU's Single Use Plastic Directive (SUPD) continues to have a significant impact on nonwovens, particularly in sectors like wipes, sanitary and feminine hygiene products, general medical supplies and devices, packaging, and the food and beverage industry. In fact, 87% of Europeans are concerned about the environmental impact of plastic, and 74% are concerned about the impact on their health. Bio-based binder applications can assist in bridging any performance gaps as businesses switch from single-use plastic products to plastic-free alternatives.

With improved softness and comfort, enhanced structural integrity and ease of processing, improved visual appeal, and better surface functionality, this approach can lessen linting and produce items of higher quality. Products created with bio-based binder technology may also be 100% compostable and fully biodegradable.

While the environmental and sustainability benefits are obvious, assisting businesses in meeting current and future regulatory requirements, the technology can also offer enhanced performance and potential cost savings due to improved functionality. NIRI's facilities are designed in such a way that the pilot scale application of binder by spraying allows for more controlled impregnation, resulting in a more uniform result. This allows for better quality control and greater certainty of prototype or final product feasibility. A controlled spray rate, combined with flexibility in application distance and dwell time, allows for enhancement of the impregnation / bonding process.

How does the equipment work?

The new equipment, installed at NIRI's cutting-edge Leeds facility, is designed to apply binders through microdosing via spray jet streams running over a conveyor system. The substrate or medium is supported and carried by a transport conveyor, while a microdosing unit with up to three flat spray nozzles sits above the conveyor. Under the conveyor is a suction slot that runs parallel to the spray nozzles. As a result, samples are belt-fed through the spraying rig, where spray applicators with adjustable flow rates apply the binder formulation to the unbonded web. The web is then sprayed, before being fed into a 'through-air oven' to consolidate the fabric. Additives can also be used to impart specific functional properties to the final fabric.

The spray bonding method used by NIRI has potential advantages over comparable procedures such as immersing or cushioning. Not the least of which is improved product performance and increased sustainability. With less water used during processing and less energy used while heating and drying, the system utilises low amounts of binder and water overall. These can offer major business and reputational advantages given the rising consumer demand for sustainability and the current energy crisis. The process enables the preservation of all, or the majority, of the loft of the fibre matrix, which significantly preserves the low volume density properties and results in improved product quality.
A commitment to innovation

The UK's Department for Business, Energy & Industrial Strategy and the Department for Environment, Food & Rural Affairs published a summary of the findings from their joint consultation into standards for bio-based, biodegradable, and compostable plastics. The report demonstrated a commitment to continue exploring sustainable alternatives to single use plastics despite the UK leaving the EU. The government's reaction to queries regarding market variables that may obstruct the development or viability of bio-based plastics, notably in regard to scale, sustainability, and cost, is notable from this consultation. Here, the Government reaffirmed its commitment to supporting ongoing innovation and ensuring that new, creative solutions may prosper in the market.

"Greater use of bio-based materials could provide significant economic benefit whilst reducing our reliance on finite fossil-based resources."

The UK Government response

In light of this scenario and the strong business rationale for sustainable products and innovation, NIRI's enhanced spray bonding facilities are a significant advancement that will aid in the creation of unique products and services. Pilot-scale equipment is perfect for quick and inexpensive prototyping, which is necessary for R&D that is both time and cost effective. Additionally, NIRI's facilities are made to be flexible and are geared toward working with clients and the NIRI team, who collectively have over 400 years of experience in the fields of textile science and industrial application, to develop products from concept, on to prototype, and ultimately supporting with scale-up.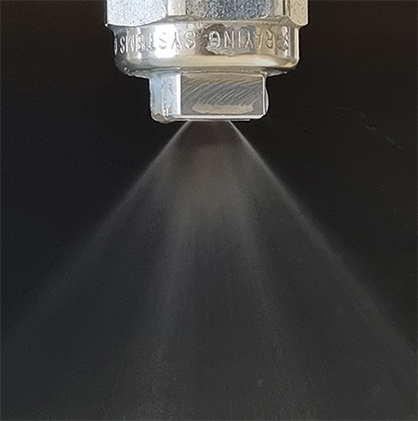 © 2022 NIRI
"Regulatory changes, together with consumer demands to address the environmental impacts of plastic pollution, are a significant factor in developments within the nonwoven sector, and for our clients' own development strategies. While single use plastic is high profile as an issue to be addressed – albeit a complex one that may not be solved overnight – more durable products will, undoubtedly, come under increased scrutiny. We are already working with clients who are using our upgraded spray bonding facilities to develop novel products, and this can only be good for the commercially- and environmentally-viable future of product development across a wide range of sectors." – Dr Ross Ward, Chief Commercial Officer at NIRI

Related News
More News from TEXDATA International

Latest News