Recycling
2023-05-17
Manfred Hackl is Plastics Recycling Ambassador of the Year
Manfred Hackl, CEO of EREMA Group GmbH, was recently awarded the accolade Plastics Recycling Ambassador of the Year at the Plastics Recycling Show Europe. The award is given in honour of personalities who are particularly committed to plastics recycling.
High-profile accolade for EREMA Group CEO
Manfred Hackl has been with EREMA since 1995 and, prior to joining the management team, was responsible for the product development and market launch of VACUREMA technology that closed the loop in the bottle-to-bottle segment efficiently and cost effectively. In his current role as CEO of the EREMA Group and in various roles in well-known national and international associations he promotes plastics recycling and circular economy across the industry, regionally and throughout Europe - especially at EU level - encouraging everybody in the industry to work together.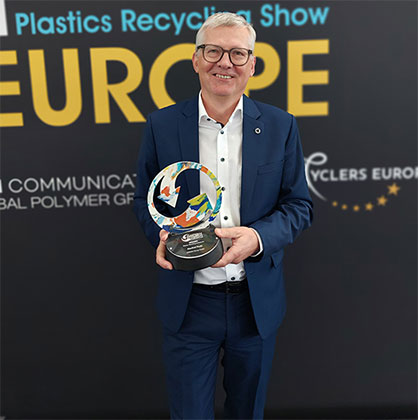 Manfred Hackl, CEO EREMA Group © 2023 EREMA Group
"I dedicate the Recycling Ambassador of the Year award to the employees at the EREMA Group. This year we are celebrating our 40th anniversary, and this award, just like the many we have received for our technologies over the years, shows that we can be very proud of what we have accomplished and achieved together during this time," says Manfred Hackl, delighted with the award. In the past business year 2022/23 alone, the extruders supplied by the companies within the EREMA Group deliver an additional 1.6 million tonnes of recycling capacity.
Related News
More News from TEXDATA International

Latest News