Recycling
2023-03-23
ACCELERATING CIRCULARITY launches cellulosic textile-to-textile trials in Europe
Accelerating Circularity's mission is to catalyze new supply chains and business models to turn spent textiles into mainstream raw materials. The vision is a world in which textiles are no longer wasted and millions of tons of waste are diverted from landfill and incineration.
"The vision at Pure Waste is to create recycled products and closed loop solutions that inspire a change for a world without textile waste." shared Ms. Maela Mandelli, Co-Founder, Pure Waste OY. "We are excited to be part of the ACPE trials and to work together with different partners along an international supply chain to contribute quality recycled products. "

"Gülle Entegre Tekstil ??letmeleri A.?. has grown as a family business over the last 50 years with a passion for continuous development in cotton processing from fiber to fabric with a commitment to quality and sustainability. Being a part of these ACPE trials gives us an opportunity to further our mission to be an integral part of global circularity projects and lead the change in textiles." said Mr. Kerem Gülle, Gülle Entegre Tekstil ??letmeleri Emlak Dan. San. Ve Tic. A.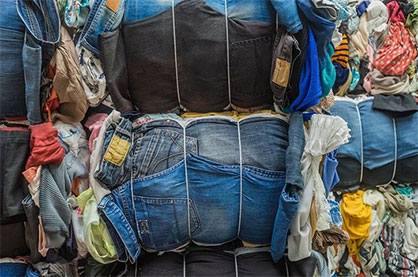 © 2023 Accelerating Circularity
"As a mountain sports brand, Salewa wants to build circular production models and shift in the way we deal with production processes, and interaction between companies and the people behind them," shared Ms Christine Ladstaetter, Innovation & Special Projects Manager, Salewa. "The framework that ACPE is setting up is a "training field" which drives new ways of collaboration and commitment into circularity, leading to an economy built on the mindful use of resources."

Further, Accelerating Circularity trials are supported by JUBEL.AI, a cutting-edge cloud-based platform with advanced AI technology. JUBEL.AI offers unparalleled data sharing capability, which enables the collaboration and information sharing required to make these pilot trials successful.

The product trial range will cover single jersey and Italian fleece items, woven light-weight shirts, and heavier-weight twill fabrics. The target composition is 40% recycled content; half is to come from post-consumer spent textiles. The goal is a minimum of 50 tons of post-consumer spent textile feedstock across all products and partners with the ideal timeline of Spring 2023 for initial development of fabrics. Brands interested in adopting ACP fabrics into their season should reach out to info@acceleratingcircularity.org.

Members:

Amazon

Avery Dennison

Bank & Vogue

Brav

CWS

Enviu

Erdotex

Eurotex / Texcycle

GIZ

Gülle Tekstil

Inditex

Lenzing

Polopiqué

Pure Waste

Recover™

Recyclatex Group

Reverse Resources

Salewa

Salvation Army

TEXAID

Tomra Sorting Solutions

Valérius 360

Vossen

Wolkat

WWF

Zalando

For more information on Accelerating Circularity visit:
https://www.acceleratingcircularity.org/

For more information on the Accelerating Circularity Project in Europe and in trial participation, please contact Alina@acceleratingcircularity.org.

Related News
More News from TEXDATA International

Latest News