Recycling
2022-07-28
Hyosung TNC introduces Regen Sneakers made in collaboration with Muji and LAR to the market.
The country´s leading eco-friendly recycled fiber Regen® has been transformed into sneakers through the recycling of PET bottles.
On July 15, Hyosung TNC announced that it has produced a thousand pairs of sneakers made in cooperation with Muji and LAR.

These sneakers are a result of a project carried out to introduce customized goods for greensumers (consumers adopting eco-friendly consumption patterns) with the participation of leading businesses specializing in eco-friendly fiber (Hyosung TNC), eco-friendly lifestyle (Muji), and eco-friendly footwear (LAR), leveraging each of their strengths.

Regen sneakers were made with 16,000 PET bottles collected at Muji and LAR stores. To make a pair of sneakers, you need Regen (which is ecofriendly fiber made by Hyosung TNC) equivalent to seven 500ml PET bottles.

Regen sneakers are sold at the Muji pop-up store in Lotte World Mall and on/ offline LAR stores, starting July 15.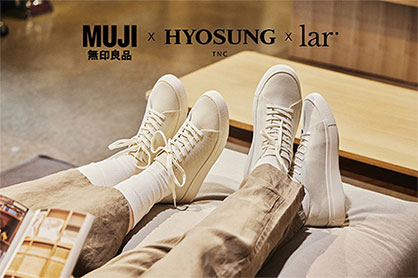 © 2022 Hyosung
Commenting on the matter, Hyosung TNC President Kim Chi-hyung said, "We anticipate more things to come from Regen sneakers. With this product made in collaboration with businesses representing eco-friendly fashion, this occasion serves as an opportunity to further propel the eco-friendly movement. We intend to provide valuable eco-friendly products through cooperation with diverse businesses."
Related News
More News from TEXDATA International

Latest News