Raw Materials
2018-04-12
ICAC Executive Director Kai Hughes conducts site visit in Abidjan, Côte d'Ivoire
The 77th Plenary Meeting of the International Cotton Advisory Committee (ICAC) is still about nine months away, but preparations have begun in earnest. ICAC Executive Director Kai Hughes met with the Organising Committee in Abidjan, Côte d'Ivoire, to discuss the event's progress and conduct an on-site visit of the Sofitel Hotel Ivoire, where the conference will be held from 02-07 December, 2018.
Kai Hughes and Dr. Adama Coulibaly, Director General of the Cotton and Cashew Nut Council and head of the local Organising Committee, discussed the theme, "Cotton Challenges: Smart and Sustainable Solutions." It's a reflection of the importance of cotton to farmers in Côte d'Ivoire, which is one of Africa's largest exporters.
The government is steadfast in its support of the domestic cotton industry, having announced in November that it would leave the government-mandated price for farmers unchanged for the 2017/18 season, despite low global prices. Côte d'Ivoire's production increased 21.4% between the 2016/17 and 2017/18 seasons, and the government hopes to increase that amount by an additional 50% over the next two seasons.
In the coming months, ICAC will be posting the Plenary Meeting's full agenda and other event-related details on its website. For more information, and to sign up to receive ICAC press releases and other announcements about the conference, please visit www.icac.org.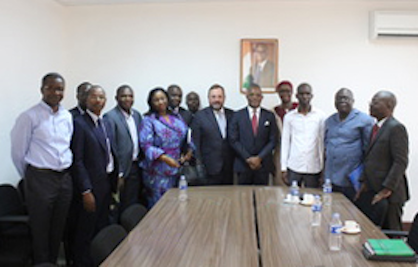 ICAC Executive Director Kai Hughes (centre) and the Organising Committee are preparing for the 77th Plenary Meeting, to be held 02-07 December, 2018, in Abidjan, Côte d'Ivoire (c) 2018 ICAC
Related News
Latest News Raw Materials
More News from International Cotton Advisory Committee (ICAC)

Latest News