Other suppliers
2016-09-28
Jeanologia will represent Spain in the European Business Awards recognizing Business Excellence

(c) 2016 Jeanologia
Jeanologia, the Spanish world company leader in developing sustainable technologies for the textile industry, has been named a National Champion for Spain in The European Business Awards 2016/17, the Europe´s largest business competition set up to celebrate business excellence and best practice in the European business community.
It competes in the category of Environmental & Corporate Sustainability in which the contribution to business innovation, transparency and ethics of the companies are valued.
The Spanish firm will compete in Environmental & Corporate Sustainability category in which the contribution of companies to the social, cultural, economic and environmental context should be considered. The awards highlight companies that adopt sustainability as a core value in their effort to innovate.The European Business Awards, now in its 10th year, are supported by business leaders, academics and political representatives from across Europe, and this year they have received 33.000 applications from companies from 34 different countries.
Jeanologia has been chosen after the first phase of judging by an independent panel. There were evaluated on the core EBA values of innovation, ethics and success and will now go through to the second stage of the competition. The CEO of the Spanish company, Enrique Silla, said that "the nomination for best European company is a prize for the effort made by Jeanologia for more than 20 years to transform the textile industry towards a more sustainable, ethical and systematic model". He adds "we are very proud to have been selected to represent Spain as a National Champion. The European Business Awards are widely recognised as the showcase of Europe´s most dynamic companies and we are proud to be recognised at this level".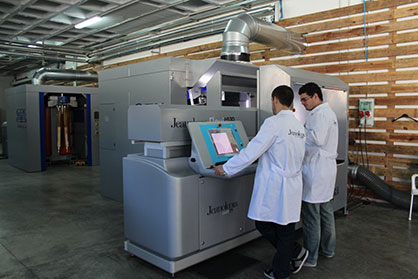 Pic: Jeanologia Technology
Adrian Tripp, CEO of the European Business Awards said: "Congratulations to Jeanologia who have been selected to represent their country as National Champions. They are central to the success of Europe's strong business community, and have shown the core principles we look for of innovation, ethics and success."
In the next round, whose result will be known in late January 2017, The Awards independent judges will award the best of this group the "Ruban d'Honneur" status and the selected companies will then go on to the Gala Final in 2017. Lead sponsor RSM, the sixth largest network of independent audit, tax and consulting firms worldwide has supported the European Business Awards since its inception.
The Awards' core purpose is to support the development of a stronger and more successful business community throughout Europe. Additional sponsors and partners of the Awards include UK Trade and Investment, ELITE and PR Newswire.
In the 2015/16 competition, all EU member markets were represented plus Turkey, Norway, Switzerland, Serbia and the Former Yugoslav Republic of Macedonia. Their combined revenue exceeded €1.2 trillion employing over 2.5 million people.
Pic: Jeanologia Jeans
Related News
Latest News Other suppliers
More News from JEANOLOGIA S.L.

Latest News