Nonwovens / Technical Textiles
2022-10-24
Reifenhäuser provides trade fair visitors at K 2022 with fully recyclable FFP2 masks free of charge
At K, the world's largest plastics trade show, thousands of visitors come together to learn about the latest innovations - especially on sustainable plastics products. This year, visitors will already encounter one such innovation at the trade show entrance: fully recyclable and climate-friendly FFP2 masks. Reifenhäuser provides the masks for protection against respiratory infections to trade fair visitors free of charge at all entrances.
FFP2 masks have so far caused major problems when it comes to recycling: they are usually made of many different materials, for example functional layers of polypropylene and textile, nose clips made of metal, ear loops made of polyester. As a result, resources are lost to the circular economy, and the carbon footprint is devastating - especially due to the enormous increase in mask consumption caused by the Corona pandemic.
The mask for K 2022, on the other hand, consists of 99.7 percent polypropylene. It is therefore considered a mono-material product and is 100 percent recyclable. In concrete terms, this means that the nose clip is made of 100 percent polypropylene instead of wire. The same applies to the support layer, which is otherwise made of so-called Hot Air Cotton. The ear loops - usually made of PES (75 percent) and elastane (25 percent) - are 85 percent PP and 15 percent Cradle2Cradle certified elastane. The total elastane weight per mask is thus only 0.3 percent. The individual packaging for the FFP2 masks is also made of 100 percent PP and can be recycled together with the masks. The mask was produced by the Grabher Group, a specialist in technical textiles, using a Reifenhäuser meltblown line.

Reducing the carbon footprint
The sustainable FFP2 masks are not only fully recyclable, but also cause significantly less CO2 emissions during their production than conventional protective masks. The entire production process is designed to keep the carbon footprint as low as possible: the masks are manufactured entirely in the EU, avoiding long transport routes. CO2-neutral PP resins based on Borealis Bornewables™, a renewable premium raw material that offers the same material performance as virgin polyolefin but is independent of fossil raw materials, are used for production. The nonwoven is produced with green power on energy-efficient Reifenhäuser line technology. Added up, a recyclable FFP2 mask thus has a CO2 footprint of only 8 grams of CO2 equivalents - that is one tenth of a conventional mask produced in Asia.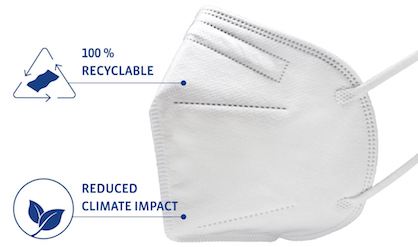 (c) 2022 Reifenhäuser
Further Reifenhäuser sustainability solutions at K 2022:

Reifenhäuser main booth: Hall 17 / C 22

More information and illustrations on the subject of sustainability
can be found at: www.reifenhauser-sustainability.de

Related News
Latest News Nonwovens / Technical Textiles
More News from Reifenhaeuser GmbH & Co. Maschinenfabrik

Latest News