Making-Up
2013-09-27
Innovative solutions by Gerber at CISMA 2013 in Shanghai

The audience at CISMA watching the Paragon® cutting System (c) 2013 Gerber
During the China International Sewing Machinery & Accessories (CISMA) show in Shanghai, China Sept. 25-28, Gerber Technology, the sewn goods industry's leading provider of automation technology, is demonstrating breakthrough software and manufacturing solutions that embody decades of best practices from thousands of users – making them easy to operate, easy to maintain and capable of producing the highest-quality products possible.
Focus on optimizing workflow and maximizing cutting room efficiencies
"Any design or cutting room manager or business owner of any size, will want to witness Gerber's newest technology in action at CISMA," said Steve Park, vice president and general manager of Gerber's Sewn Goods business. "Visitors will see several ground-breaking solutions to help them optimize their workflow from the design room through the cutting room, to maximize productivity and ensure quality."
"We've focused on making our systems the easiest to use and have incorporated advanced technologies that maximize system uptime and ensure parts are cut precisely the first time – every time," said Park. "We also provide managers with the data they need to continuously improve their cutting operation."
Pic: Gerber Technology President and CEO, Mike Elia, at Gerber's CISMA press conference
New Paragon® cutting platform
The new Paragon System from Gerber maximizes cut room productivity with advanced machine intelligence and breakthrough ease-of-use.
Paragon leverages Gerber's decades of experience and the learning from over 250 million hours of cutting operation to produce high- quality cut parts regardless of material, application or operator. With its superior uptime performance, Paragon also enables manufacturers to realize a higher return on investment by producing more parts in less time.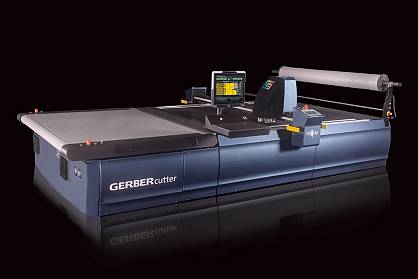 Pic: Paragon® cutting system
"Paragon customers will no longer need to hold on to antiquated technology due to fear of re-training experienced operators or spend months training new operators only to lose them in a competitive labor market," said Mike Elia, president and CEO of Gerber. "Paragon's elegant, breakthrough user interface, which we call KERI™,  is simple enough for any operator to use efficiently and accurately from the start – it's as easy as click-click-cut." 
Related News
More News from Gerber Technology

Latest News