Knitting & Hosiery
2023-04-20
New set-up of Mayer & Cie. representations in Nepal & Bangladesh: Batliboi forms part of team in both countries
The Batliboi team at ITME 2022 along with several Mayer & Cie. colleagues. © 2023 Mayer & Cie
Since 1 April 2023 sales and service of Mayer & Cie. circular knitting machines in Bangladesh have been under new management. A new dynamic team "Mayer Bangladesh" has been formed. Mayer & Cie.'s longstanding Indian representative Batliboi has joined business activities in Bangladesh since the beginning of the month, supported by the team of Brady Services and by Almani Biz. The synergies created by the partnership with Batliboi, Brady Services, and Almani Biz. will allow Mayer & Cie. representations to combine their strengths and expertise to better serve customers.
New, well-known faces in Bangladesh

In Batliboi Mayer & Cie. has set up a business partner of many decades standing as its representative in Bangladesh. For around 40 years Mumbai-based Batliboi has overseen sales and service of Mayer & Cie. circular knitting machines in India. Abhay Sidham heads Batliboi's Textile and Machinery Group. He and his team have many years of experience in strategic marketing, and a focus on sustainability and processing recycled raw materials is part of Batliboi's expertise.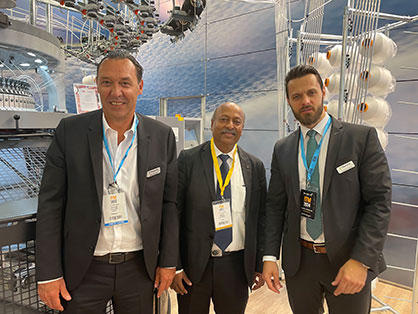 Batliboi's Abhay Sidham (centre) with Mayer & Cie. CEO Benjamin Mayer (right) and Stefan Bühler, regional sales manager, at the ITM in Istanbul in the summer of 2022. © 2023 Mayer & Cie
These competences are of relevance in the Bangladesh market because "we face strong competition from Asian manufacturers here," as Wolfgang Müller, Mayer & Cie.'s sales director, explains. The premium market was growing smaller, and the trend was toward specialities – value-added fabrics, spacer fabrics and athleisure with a high proportion of elastic. Mayer & Cie. sees in these requirements significant potential for its machines – and in Batliboi a partner able in view of its experience to put them to optimal use.

Best possible combination of tried and trusted and new

One building block in the set-up of Mayer & Cie. representatives is unchanged. Brady Services will continue with Batliboi to contribute its close ties with the local market. A significant number of existing companies will continue to be looked after by Brady Services.

The new member in Mayer Bangladesh team is Dhaka-based Almani Biz. A lubricants specialist for circular knitting machines Almani Biz has wide networking with Bangladesh knitting industry.

Mayer & Cie. feels well positioned by this new set-up. "We," Wolfgang Müller says, "are of the opinion that the market for textile machinery in Bangladesh will continue to grow and we are confident that by strengthening our sales, service and marketing team we will be able to make good use of this opportunity."

A market with great potential

Customers in Bangladesh have placed large orders in the past. The latest, placed in January, was for several dozen machines to be delivered this autumn. Further orders from Apex and BEXIMCO (Bangladesh Export Import Company) are also scheduled for delivery in the second half of 2023.

Nepal represented by Batliboi

While reorganising the set-up of its representatives in Bangladesh Batliboi has also taken over as Mayer & Cie.'s representative in Nepal, where the company had previously had no local representative. There is demand for machines for interlock, 8-lock and single jersey, but sales are still in single figures. "Nepal has long been served from India, specifically by Batliboi," Wolfgang Müller says. "So, we have now formalised the existing practice."

Related News
Latest News Knitting & Hosiery
More News from Mayer & Cie. GmbH & Co.

Latest News