Industry 4.0
2023-03-23
ANDRITZ strengthens its digitalization portfolio to model autonomous operation based on digital twin technology
ITI's ExtendSim line of multi-purpose, dynamic modeling and analysis products complements the ANDRITZ Metris Digital Solution portfolio and differentiates ANDRITZ's approach towards lifecycle modeling and autonomous operation significantly.
International technology group ANDRITZ has acquired Imagine That Inc. (ITI), a California, USA-based simulation software company.
"We are excited to empower our existing IDEAS-based operational readiness solutions with the well-recognized ExtendSim discrete event, discrete rate, and reliability modeling capabilities. With the acquisition our customers now have an integrated platform for diverse simulation-based engineering applications," says Heinz Autischer, Chief Automation Officer, ANDRITZ GROUP.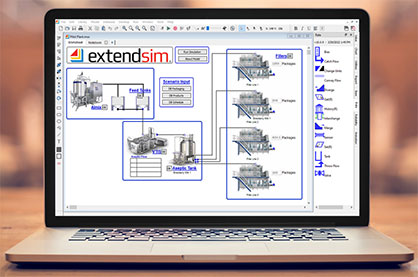 © ANDRITZ
The collective capabilities of ExtendSim products and Metris IDEAS Digital Twin applications help customers unleash the full potential of plants, equipment, and physical assets from feasibility and engineering design to operation and maintenance. The integration of ANDRITZ's OEM expertise with a customer-centric software and application development approach continues to foster our customers' digital transformation initiatives.

"Joining the ANDRITZ team is a natural fit for ITI since we share a history as well as a passion for innovative technologies," says Pat Diamond, President of Imagine That, Inc. "It has been incredibly rewarding to see how ANDRITZ has used ExtendSim in its IDEAS platform over the past two decades and we are thrilled to continue this journey. This further solidifying of the ANDRITZ vision will, undoubtedly, transform organizations around the world through simulation."

The existing customers of ANDRITZ and ITI will immensely benefit from ANDRITZ's vision, technology, and resources in developing the next generation of digital solutions.
Related News
More News from ANDRITZ Nonwoven

Latest News