ITMA 2015
2015-10-08
Lindauer DORNIER's "Green Machines" in the limelight of innovations and "green technologies"

DORNIER rapier weaving machine P2, TGP 6/S G type, with a nominal width of 320 cm, Article: High density filter fabric
The Lindauer DORNIER GmbH displays at the ITMA in Milan a multitude of innovations and new machine concepts for particularly sophisticated fabrics. Under the motto "The Green Machine" this family enterprise from Lake Constance, which manufactures all its machines exclusively in Germany, presents comprehensive solutions for sustainable technologies. With this guiding principle DORNIER is not just hinting at the well-known green varnish of the weaving machines but, above all, at the "green effect" of the fabrics they produce.
These fabrics are vital for many "green technologies" in almost all sectors with products such as finest filters to purify water or air, airbags and antiballistic structures for protection of life and limb, glass or carbon fibre composites to reduce moving masses and the CO2 emissions. In all these sectors the DORNIER "Green Machines" are indispensable for the production of high-precision fabrics. Especially in these areas, where the highest requirements are placed on quality, DORNIER weaving machines unfold their unique performance.
This is achieved thanks to the quality of manufacturing, the inventiveness of the DORNIER developers and engineers as well as the culture of close communication with their customers. In addition to the focus placed on the production of technical textiles to improve sustainability, the German machine manufacturer also presents newest developments for the applications home textiles, clothing and technical textiles.
The highlight of the 400 m2 DORNIER exhibition stand is a new generation of rapier weaving machines - the P2 - that will be revealed to the public for the first time. Further DORNIER exhibits are an air-jet weaving machine A1 and two rapier weaving machines P1 in their respectively latest version. At the stand of Stäubli an air-jet weaving machine A1 in Jacquard version and at the stand of Bonas a rapier weaving machine P1 with a directly mounted Jacquard machine are displayed.
With regard to the ITMA slogan "Master the Art of Sustainability" Peter D. Dornier, Chairman of the Executive Board, says: "For our company sustainability has been a philosophy for more than 65 years, not just a fashionable trend. At our site, we respect and support ecosystems and nature. As a family enterprise we cherish values such as confidence and respect. Against the background of claims for more sustainability in textile production, we feel it is important to point out which enormous contribution modern technical textiles do make to the environment. Woven high performance filters for instance, due to their importance for pure air and clean water, cannot be appreciated highly enough. In this aspect, our customers with their DORNIER weaving machines make an excellent contribution to environmental protection. There is much room for improvement as we will show with the help of our "Green Machines" and, above all, with the new rapier weaving machine P2.
Together with our customers we want to unlock this potential. Furthermore, DORNIER weaving machines also offer numerous innovations for even more quality in conventional areas such as home textiles and clothing".
"Quality creates value" – Lindauer DORNIER GmbH will be presenting the following machines and applications at the ITMA:
The P2 is a further development of the DORNIER rapier weaving P1 machine with positive controlled center transfer. At the ITMA stand this machine will produce a high density filter fabric in super heavy design with a nominal width of 320 cm and two warp beams. For this width, this kind of fabric could, up to now, only be produced by means of special machines.
The extremely high density is achieved by a specially developed cloth take-up, an absolute uniformity of the filling density and a reed impact force of 5 tons. Such a high reed impact force requires to regulate the warp tensions with the warp let-off and cloth take-up at a constant value.
In order to master this warp tension, the DORNIER SyncroDrive® with its stable speed is crucial for the shedding. The load peaks in the whole shedding motion are minimized. And the produced uniform fabric has always the same mesh number per cm2.
In addition to density this is another requirement for a high quality filter fabric. This new rapier weaving machine P2 provides for weavers a multitude of new fields of application as well as the chance to open up new markets. As real "Green Machine" it will prove its special strength and sturdiness above all in fields that require more efficient, heavier and denser fabrics with highest regularity. This applies, e.g. for filter fabrics for wet, fluid and solid matter filtration or for soot particle separation etc.

The rapier weaving machine P1 of the latest version produces a sophisticated functional fabric out of different materials, e.g. upholstery fabrics for office chairs. Monofilaments and different flock yarns are used in the filling. The colour of the fabric can be chosen individually according to customer wishes. This challenging elastic material of high quality can only be woven using a very precise warp regulation. The regulation must ensure a predefined tension curve from full to empty warp beam. For this purpose, the rapier weaving machine P1 is equipped with a warp tension measuring system whose sensors control the actuators by means of the warp let-off control thus ensuring a constant warp tension.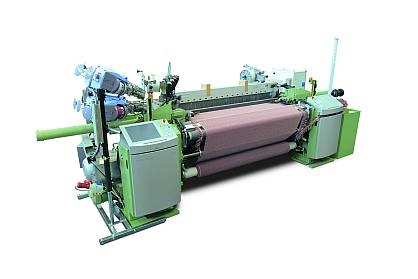 DORNIER rapier weaving machine P1, PTS 8/S C20 with a nominal width of 190 cm
Article: Upholstery fabrics
For sophisticated ladies outerwear the rapier weaving machine P1 produces a very exceptional fabric that was recently presented at the Premičre Vision in Paris. The special feature of this fabric is that it is woven with 16 filling colours and different materials at up to 600 fillings/minute. The basis for weaving such a multifaceted blended fabric is the well-tried DORNIER filling insertion with positive controlled center transfer ensuring a precise and reliable insertion of different filling yarns. A multitude of in part patented machine functions and components such as, e.g. DORNIER MotoLeno® for the selvedge creation or DORNIER AirGuide® for a precise rapier guidance in the shed, guarantee furthermore topmost process reliability.
DORNIER rapier weaving machine P1, PTS 16/S C with a nominal width of 190 cm
Article: Ladies' wear
 The air-jet weaving machine A1 of the latest version produces a suit fabric out of worsted yarn as fabricated by the leading textile factories worldwide. Weaving a high-quality fabric out of finest wool yarns with high productivity poses a major challenge.
The DORNIER air-jet weaving machine succeeds in this challenge with its gentle filling insertion ("senza pelositŕ", which means no hairiness of the fabrics) in combination with the automatic filling break repair. But DORNIER would not be DORNIER if it did not constantly push forward productivity and quality. Nowadays, the air-jet weaving machine A1 is used at more than 1,000 picks/minute in industrial applications. The newly developed nozzle concept accelerates the filling thread gently and inserts therefore sensitive yarns even more smoothly.
Thanks to DORNIER SyncroDrive® vibrations in the shedding motion are further reduced.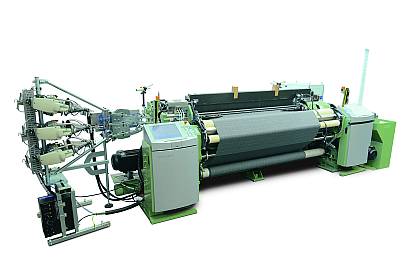 DORNIER air-jet weaving machine A1, AWS 6/S G16 with a nominal width of 210 cm
Article: Mens' wear
At the Bonas stand a DORNIER rapier weaving machine P1 in Jacquard version produces alternately a medium weight carpet fabric and a gobelin. The remarkable thing is the machine itself. Conceptually first created in 2014, this machine is now presented at the ITMA. In the first instance, it captivates by its very compact design. The Jacquard machine is directly mounted and screw connected to the weaving machine. 18,432 hooks are used. A standard feature of this machine is the DORNIER SyncroDrive®. By eliminating the cardan shaft, the weaving machine runs significantly more smoothly due to markedly reduced vibrations.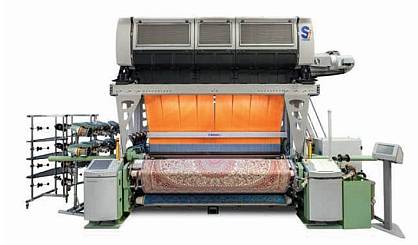 DORNIER rapier weaving machine P1, PTS 8/J G with a nominal width of 260 cm in combination with a Jacquard machine Bonas Si
Article: Carpet fabrics and gobelin alternately
(Bonas stand: Halle 1, stand C101)
At the Stäubli stand a DORNIER air-jet weaving machine A1 produces airbag fabrics that is "one piece woven" (OPW). The combination of Jacquard weaving machine and A1 is the optimum solution for this special production technique. 12,228 hooks are used. A standard feature of this machine is the DORNIER SyncroDrive®. This type of airbag is used for instance for lateral impact protection. The protection of human life is a central aspect of sustainability. A lot more can be done for passenger protection in lower and middle vehicle classes even in Europe and the USA. Airbags therefore continue to be a growing market.
The A1 in Jacquard version with its high productivity and extreme reliability offers optimum possibilities. Airbags of top quality are produced in series while meeting economic and ecological criteria.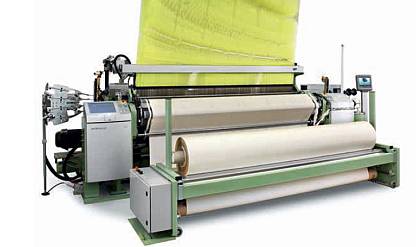 DORNIER air-jet weaving machine A1 AWS 4/J G with a nominal width of 280 cm in combination with a Jacquard Stäubli LXL
Article: Airbag
(Stäubli stand: Halle 1, stand B111)
DORNIER SyncroDrive® The patented DORNIER SyncroDrive® is a particularly low maintenance drive. The basis are servomotors with direct controlling but without a clutch/brake unit. This drive concept permits to change the close of shed timepoint during weaving. The very rigid and low vibration drive concept reduces mechanical load as well as attrition in the whole shedding motion and in this way ensures fewer warp breaks.
Systems equipped with DORNIER SyncroDrive® insert the yarns very gently. Service life is prolonged and operating costs reduced. Lower costs, highest functional reliability and an outstanding fabric quality raise weaving with DORNIER SyncroDrive® to a high level.
DORNIER Technology Days
Within the framework of the DORNIER Technology Days taking place from October to December in Lindau, customers and interested persons have the opportunity to see our weaving machines and innovative processes at our factory and to discuss customised solutions and specifique applications.
During the ITMA a shuttle service from Milan to Lindau permits to benefit comfortably from the DORNIER Technology Days.
In the Technology Center the following products are exhibited:

Jacquard weaving line for 3D structures
Tape weaving machine
A tape production line for the application specific production of thermoplastically fixed or consolidated tapes
The new terry air-jet weaving machine DORNIER ServoTerry® and special applications of the DORNIER Open Reed Weave (ORW) technology for the clothing and technical textile sector are revealed to the public in Lindau the first time.
DORNIER air-jet weaving machines at the stands of other exhibitors:

MEI International S.r.l. - hall 1, stand G118
VAUPEL TEXTILMASCHINEN GMBH & CO. KG - hall 1, stand A108
Visit DORNIER to experience "The Green Machine" DORNIER at their exhibition stand in hall 1, stand H102.
Related News
More News from Lindauer DORNIER GmbH

Latest News