ITMA-Asia + CITME-2016
2016-10-19
New James Heal Touchscreen Technology Lights Up ITMA Asia
James Heal, a leading manufacturer of premium quality Textile Testing Instruments and Consumables worldwide, is set to showcase for the first time its innovative new touchscreen-based user interface at the ITMA Asia
The revolutionary new Touchscreen User Interface (TUI), currently being rolled out across the complete James Heal core Testing Instrument range, has been designed to dramatically improve the efficiency and productivity of Textile Testing Laboratories by delivering the best in user-intuitive design and functionality.
James Heal will be showcasing three Testing Instruments with the new touchscreen-based user interface at ITMA Asia, including its flagship Martindale Abrasion and Pilling Tester, the Impulse Random Tumble Pilling Tester and the GyroWash Colour Fastness Tester. The instruments will be accompanied by several touchscreen demonstration units for visitors to familiarise themselves with the software and experience for themselves how simple and intuitive it really is.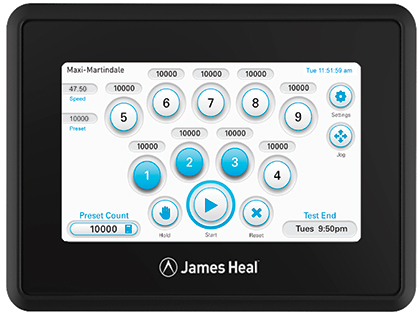 Pic: Martindale Touchscreen
Commenting on the new touchscreen user interface, Andrew Hemingway, Commercial Director said: "Working closely with our in-house team of textile technology experts, and collaborating with some of the most influential Textile Testing Laboratories across the world to understand the critical challenges that they face, the James Heal Design and Innovation team has been able to come up with a touchscreen controller that not only dramatically enhances the overall user experience but, even more importantly, supports Laboratory Managers in maximising productivity. With intuitive, simple and clear navigation, and a 'homescreen' that displays all the key information a user would need, we believe that this latest James Heal innovation will make a dramatic difference to the way laboratories use textile testing equipment."
Housed inside a robust, damage-resistant and water-resistant cover glass display, the software can also be set to nine different languages including English, Chinese, Spanish, French, German, Italian, Hindi, Bengali and Turkish, adding further appeal to many of the world's leading textile testing markets.
In preparation for the official launch at ITMA Asia, the Touchscreen User Interface has been undergoing months of rigorous reliability testing, pushing the software and hardware to its limits to ensure that it stands up to even the most demanding of laboratory environments. This process included issuing instruments fitted with the touchscreen user interface to five of the highest-profile and most demanding UK textile testing laboratories for beta testing. The technology performed flawlessly throughout, easily exceeding reliability and beta testing requirements and delivering outstanding feedback from the beta test sites for its performance and reliability.
"At James Heal we are continuously looking at ways to provide value-add to our customers by providing innovative solutions that not only help to solve their most critical challenges but also enhance the user experience. The new Touchscreen User Interface typifies this philosophy perfectly. We are delighted to be presenting it to the industry for the first time at ITMA Asia and look forward to giving visitors the opportunity to experience first-hand just how impressive this latest innovation is", adds Hemingway.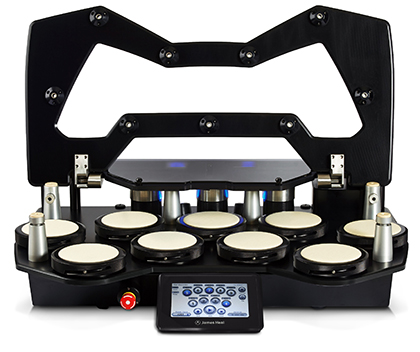 Pic: Martindale Tester
Visitors to ITMA Asia are invited to visit the James Heal stand (Hall 5, Stand F16) to see and experience the new Touchscreen User Interface and consult with our team of experts at the exhibition stand.
Related News
Latest News ITMA-Asia + CITME-2016
More News from James Heal

Latest News