Dyeing, Drying, Finishing
2018-03-06
Next stop Cairo - Mahlo to exhibit at Egy Stitch & Tex 2018
Weaving, spinning, sewing, embroidery, knitting, or finishing: no matter what sector, textile industry players don't want to miss the Egy Stitch & Tex exhibition in Cairo. For all decision makers and specialists, world market leader Mahlo and its partner Newtrac Trading will present its latest straightening technologies in Hall 4, booth 4A3. Their weft straighteners offer the Egyptian textile producers the perfection they are striving for.
The textile sector is the rising star in Egypt's economy, accounting 30 per cent of total industrial production. To keep it that way, producers are willing to invest in their machinery and enhance the production process. For almost every demand, Mahlo has the perfect solution. The weft straightener Orthopac RVMC-15 is the epitome for straight goods.
Based on experience reaching back to the year 1945, the machine offers the latest technology for correcting distortions. The modular straightening and process control system ensures a straight-thread product before and after the drying or fixing process and optimises the processes all around the stenter. This increases quality and saves resources and energy.
Another useful tool, the Mahlo team will present at Egy Stitch, is the process control Optipac VMC-15. With its help, the producer can measure and control critical parameters like dwell time, thread density or residual moisture. The systems have not only proven highly successful with Egyptian leading textile manufacturers. They are the go-to technologies for producers all over the world, who want to ensure high-quality goods for their clients.
Mahlo and Newtrac Trading are happy to share their expertise at the ultimate meeting place for the Egyptian textile industry.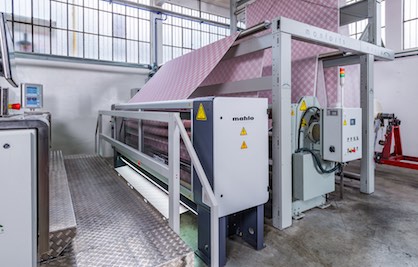 Mahlo Orthopac RVMC-15 (c) 2018 Stamperia Pezzoli
Related News
Latest News Dyeing, Drying, Finishing
More News from Mahlo GmbH + Co. KG

Latest News