Denim
2022-09-01
Officina39's Aqualess Mission floods Munich Fabric Start's Keyhouse with blue technologies and collaborations

© 2022 Officina39
The Italian company continuously evolves its range of chemical solutions for an increasingly sustainable textile industry: innovative efforts converge in technologies that consistently reduce water use and in key partnerships aimed at circular production, as The Circle Book 3 and the "Denim Then and Now" project.
Recycrom™ is certainly one of the most iconic and appreciated technologies developed by Officina39 in the last years: a revolutionary and sustainable dyestuffs range, patented by the Biella-based company, which employs recycled used clothing, fibrous material and textile scraps. Keyhouse, Munich Fabric Start's advanced platform reserved to industry's game changers and pioneers, is the perfect stage to show the latest evolution of the colorful power of waste: Recycrom™ gel, a complete range of "second hand" pigment powders that can be used waterless, in dry conditions.
Indeed, using as less water as possible has always been one of the cornerstones of Officina39's philosophy, turned into concrete reality by Aqualess Mission, a combination of four technologies that allows garment laundry processes to reduce 75% of the water use. Novascraper Indigo, a laser finishing technique that adds a natural, vintage look to denim garments; OZ-ONE Powder, an advanced product to give garments a bleached yet eco-friendly treatment, for a worn and distressed look; Aqualess Aged, a waterless compound to give denim abrasion effects; Aqualess Fade, a waterless technology for the discoloration of denim on indigo/black garments that recreates the bleaching effect of chlorine on fabrics.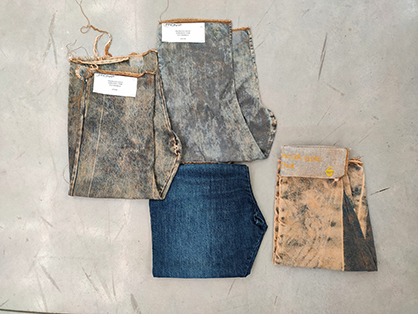 © 2022 Officina39
The mission has gone one step further and has been optimised to develop the Just One Step Process, that allows several Aqualess Mission treatments to be concentrated in a single process: a raw garment enters the machine and a garment with a basic vintage effect comes out ready to be dried, already treated, bleached and softened. This innovation saves time, energy, space and of course water, by combining several phases of the Aqualess Mission at the same time: precisely just one step to get a basic vintage effect.

A limited use of resources is the common goal that has been driving Officina39, Meidea and Lenzing to act together in the last years: Munich Fabric Start hosts a preview of the third chapter of The Circle Book, the collaboration project for circular design. 'The Circle Book 3 / Re-establish framework' involves new partners, supporters and four teams of designers from Mexico, Italy and Argentina for the creation of the outfits. Officina39 contributes with its best range of technologies to develop sustainable chromatic evolutions: Aqualess Mission, Recycrom™, OZ-One Powder and special laser marking pre and after dyeing, using Novascraper Indigo. A panel to present the details of the third chapter of the collaborative project takes stage at Keyhouse (Hall 5), focusing on the new materials used in the collection and how circularity will change with EU policy updates.

"Transparency is a stepping stone towards a more ethical and responsible fashion industry, and so it has been key to incorporate this fundamental value throughout the production process, providing traceability through the supply chain, creating a tangible tool for brand expansion and designer awareness, sustainability and forging a responsible mindset for future collections." excerpt from the general concept 'The Circle Book 3 / Re-establish framework'.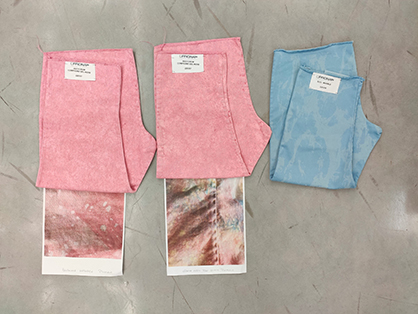 © 2022 Officina39
The Biella-based company is perfectly aware that the game could be changed just through key collaborations and virtuous partnership: that's why in occasion of the 20+ years' celebration of bluesign® SYSTEM, Officina39 and Prosperity as SYSTEM PARNERS have joined forces with Bluesign into the "Denim Then and Now" project. At the Catalyzer (Hall 6), Officina39 and Prosperity show how in 20+ years, Bluesign and its SYSTEM PARTNERS including brands, manufacturers and chemical suppliers, have been implementing the bluesign® SYSTEM to improve environmental performance, worker health and safety, and resource consumption to create the highest level of safety for people, planet, and consumers. "Denim Then and Now" is a project inspired by the holistic approach of the bluesign® SYSTEM which focuses on the implementation of clean production processes and clean chemistry. Officina39 contributes to it with its Aqualess Mission, featuring two bluesign® APPROVED products for one innovative process: Aqualess Aged, to replace the old Pumice Stone treatment, and Remover IND/J-N, to replace the use of Potassium Permanganate (PP) on denim and obtain a worn and distressed vintage look. Less water and less hazardous chemicals make the fashion industry and the world itself bluer: this is also the topic of the panel on Bluesign's inspiration.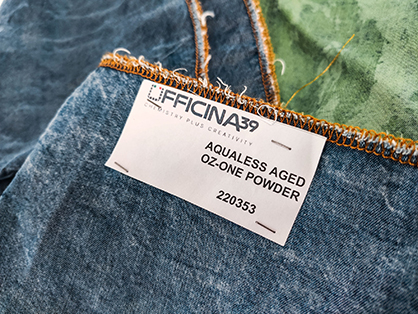 © 2022 Officina39
Related News
More News from TEXDATA International

Latest News