Carpets
2023-02-02
Trends at DOMOTEX 2023: Hooked on sustainability!
Hardly any other topic is as deeply present in our minds as sustainability. It is influencing all areas of our lives – DOMOTEX 2023, the world's leading trade fair for carpets and floor coverings, is no exception. DOMOTEX once again proved to be the industry's international trend show from 12 to 15 January 2023. At the world's leading trade fair for carpets and floor coverings, exhibitors and visitors met to discuss product innovations and industry trends. Apart from the positive atmosphere, the value-based orientation of the event was particularly convincing.
The current keynote theme "FLOORED BY NATURE" referred to the megatrend of sustainability and thus focused on green topics such as the sustainable use of resources, recycling management, natural and recycled materials as well as healthy living and work environments. The main theme was divided into the areas "Connecting Markets", "Conscious Living" and "Colourful Nature".

With presentations of sustainable products and current research projects, a haptic material show as well as an inspiring conference program, the special display THE GREEN COLLECTION in Hall 23 formed the creative and communicative heart of the fair.
GREEN COLLECTION AWARD
© 2023 Deutsche Messe
Also part of the special display was the award ceremony for the GREEN COLLECTION AWARDS, which was presented for the first time at DOMOTEX and honours sustainable products and production processes as well as particularly committed companies. An independent jury - consisting of Bayram Aslan, Director of TFI Aachen, Joachim Stumpp, Managing Director of the material database raumprobe, Roman Eberharter, President of the European Federation for Furniture Retailers (FENA), Reto Aschwanden, Managing Director of the non-profit organisation Label STEP and Thomas Pfnorr, Sustainability Officer of SN-Verlag – selected nine winners from all the products submitted for the award:

Le Fil Vert Rugs Collection | ABC Italia SRL (IT)

Go4cork Plus | Amorim Cork Composites (DE)

AMORIM WISE cork inspire 700 HRT | Amorim Deutschland GmbH (DE)

Puro | Oriental Weavers (EG)

Ökologische Trittschalldämmung | STEICO (DE)

Hywood | ter Hürne GmbH & Co. KG (DE)

Tisca Respect Collection | Tisca Austria GmbH (AT)

PURLINE BIOBODEN wineo 1000 | Windmöller GmbH (DE)

In addition to the GREEN COLLECTION AWARD, the Parkett Star, Carpet Star and Carpet Design Award ceremonies were also held during the fair.

Natural and sustainable floor coverings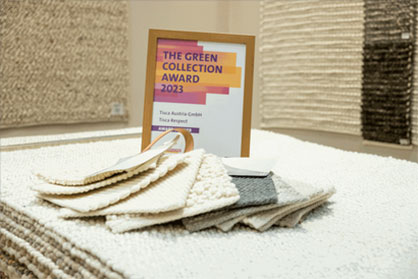 © 2023 Deutsche Messe
The sustainable focus was also reflected in the exhibitors' product range in the "FLOORING" section. Cork is one of the rapidly regenerating natural materials. It also has an insulating effect, reduces sound transmission and temperature fluctuations and improves the indoor climate. As a cork specialist, AMORIM presented several prefabricated floors as well as adhesive parquet made of this sustainable material. The Swiss manufacturer Li&Co also showcased "LICO Kork" and "LICO Printcork" floors made of this material. In addition to natural cork floors, the company also displayed "Fibrano", a plastic-free natural floor composed exclusively of renewable materials such as wood, cork, natural fibres, rubber and other natural raw materials.
In addition to the GREEN COLLECTION winner "Hywood", ter Hürne also presented its sustainable and certified design floor "Avatara", which is made of Talcusan, a formulation of chalk, silicates and the ecologically harmless polymer polypropylene. Windmöller showed "Purline Bioboden wineo 1500" in numerous colour variations and patterns. This floor covering is based on the composite material ecuran, which is mainly made from regenerative raw materials such as rapeseed or castor oil and chalk. It can be individually printed on demand. With "Woodura", Välinge presented a highly resilient and water-insensitive floor covering which also uses wood in a sustainable way. For this floor covering, wood veneer is only used as a top layer, resulting in a much higher yield of raw materials than with conventional top layers.
Sustainable carpet trends at DOMOTEX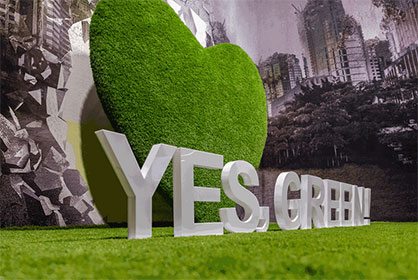 © 2023 Deutsche Messe
Exhibitors in the "RUGS" segment, which combines handmade and machine-made carpets, also responded well to the central theme of sustainability.

Wool, silk, fine artisanship: Handmade carpets, such as those on display at DOMOTEX, are unique gems that create a special atmosphere in a room. Thanks to the use of natural materials and their long lifespan, handmade carpets are a sustainable component of furnishings. Made of high-quality sheep's wool or fine silk, they have a heat-insulating effect, feel pleasantly soft and can even absorb dust and pollen from the air and contribute to a comfortable room climate.

Beyond positive material qualities and fine craftsmanship, committed manufacturers such as Jaipur Rugs, S.U. RUGS or Theo Keller ensure a positive experience when buying carpets, as these manufacturers are dedicated to fair trade and the fight against child labour. The NGO GoodWeave International is particularly committed to fight child labour. The corresponding seal of quality is therefore one of the best assurances that a carpet was produced without child labour.

The trend towards increased environmental awareness is accompanied by rising demands on quality, durability and production of machine-made carpets. Oriental Weavers from Egypt presented several sustainable carpet collections at this year's DOMOTX: "Puro", "Baduhi" and "Mojave". The company won the GREEN COLLECTION AWARD for the "Puro" collection, which is made of 100% recycled cotton fibres. With its viscose carpets, Verbatex proved that it does not have to be classic materials like wool and cotton. The Belgian manufacturer uses viscose produced by SFC from rapidly regenerating wood as a contribution to the circular economy. In addition, Verbatex uses dope-dyed fibres, which reduces water and energy consumption during production. McThree, on the other hand, is increasingly using synthetic yarns. To ensure that production meets the strictest environmental standards, the company cooperates with external specialists. At DOMOTEX, McThree showed two new collections at once: "Mundo", an outdoor collection that also cuts a fine figure indoors, and "Boho Culture" in cheerful colours and a handcrafted Berber look.

Sustainable developments like these are creating curiosity about the next DOMOTEX, which will take place from 11 to 14 January 2024 at the exhibition grounds in Hannover, Germany. Many leading companies have already confirmed their participation for 2024 – including ter Hürne, Windmöller, Neuhofer, NK Sales, Merinos, Oriental Weavers and many more.

Related News
More News from Deutsche Messe

Latest News