Weaving
2023-01-02
Stäubli at SITEX

SAFIR S32 automatic drawing in machine © 2022 Stäubli
SITEX trade fair will be held at the Surat International Exhibition and Convention Centre (SIECC) in Sarsana, Surat from January 7 - 9. The economic importance of the Surat region has been growing continuously and heavily, especially with the flouring textile industry. Today Surat is one of the textile hubs encompassing the entire supply chain of synthetic fibres.
Around 60,000 weaving machines are in operation there, and an estimated half of them are running with waterjet weft insertion. Production equipment must be efficient, and purpose designed. The trade fair is an opportunity for the local players to discover Stäubli's latest solutions for efficient weaving processes at Booth 243 and see several machines in operation.
Stäubli is a leading supplier of Jacquard technology around the world. Indian mills rely on Stäubli solutions for weaving all sorts of Jacquard fabrics, from home textiles to technical fabrics, narrow to large-format applications, and apparel fabrics, particularly for saris. In fact, it's difficult to imagine a Jacquard weaving mill without a solution by Stäubli. Stäubli Jacquard machines have become a central element in mills that demand high productivity and top quality because they deliver a broad range of decisive benefits: top energy efficiency, the highest production speeds, and minimum vibration thanks to optimally balanced kinematics.

Weavers were introduced to the new LX PRO Jacquard machine at India ITME in December 2022. Featuring the TC8 controller, NOEMI electronics architecture for unmatched reliability in data transmission, and the MX PRO modules for energy savings, the machine boasts ultra-high weaving speeds with reliable hook selection for all kinds of woven fabrics.

Live sari Jacquard weaving

Visitors to the Stäubli booth will see a complete 380cm installation weaving sari fabric and featuring another reliable high-speed Jacquard solution: the LXM Jacquard machine, operating with 5,376 hooks. Available in two formats (2,688 and 5,376 hooks) this model meets the requirements of a wide range of applications and assures reliable operation at high weaving speeds.

High-speed frame-weaving solutions for any application

Whether running a weaving mill with rapier, air-jet, or water-jet weaving machines, weavers can choose from a wide range of Stäubli dobbies, including the S3000 / S3200 electronic rotary dobby series, and Stäubli cam motions like the S1600 / S1700 series. Visitors to the Stäubli booth will observe a renowned machine that is already operating in many mills around the globe, weaving a wide variety of applications: the S3260 electronic rotary dobby, offering a housing size for up to 16 lifting units. Seeing this machine gives one a very good idea of the operational performance and running speeds these machines achieve. This electronic rotary dobby can be operated with the latest generation of e32/33 transmissions, offering benefits such reduced maintenance cost and time due to maintenance-free bearings and other refined features. Both machine and transmission promise a long service life for many years of high-efficiency production.

Automation solutions for the weaving preparation of filament warps

Drawing in warps in the weaving preparation department is a crucial processing step. Proper drawing in plays an important role for the efficient downstream weaving process, ensuring instant availability of the new warp once the old one is spent at the weaving machine and ensuring the quality of the drawn-in warp to avoid deflected yarns. The SAFIR S32 automatic drawing-in machine is dedicated to filament warps. It processes plastic healds and boasts a compact design and easy handling. Ideally serving two or more stationary drawing-in stations, the machine comes with a solution for handling double warp beams as well: The Layer & Offset Management option allows easy offset adaptation in order to achieve very high drawing-in speeds. Amongst the comprehensive range of automatic drawing-in machines, the SAFIR S32 is the one that is ideal for filament mills producing curtain or apparel fabrics.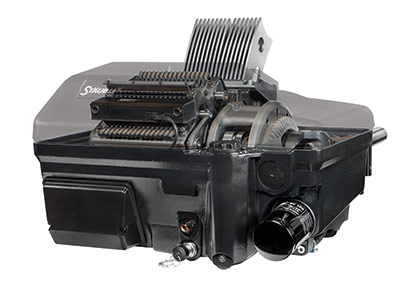 S3260 electronic rotary dobby © 2022 Stäubli
In addition to its solutions for efficient style changes, Stäubli offers three solutions for rapid and quality warp changes, namely the MAGMA, TIEPRO and TOPMATIC warp tying machines, covering a vast variety of applications. At the booth, the TOPMATIC warp tying machine will be live processing a synthetic warp. TOPMATIC – renowned for its flexibility – processes practically all staple fibres and filament yarns within the yarn count range 0.8-500tex. Operating on the TPF3 tying frame, the TOPMATIC offers efficient, fast and comfortable warp tying.

Related News
More News from Stäubli AG

Latest News