Textiles & Apparel / Garment
2023-03-02
Compo-SiL® certified as cruelty-free vegan leather by PETA
General Silicones (GS), an expert manufacturer of silicone products with more than 50 years of experience, today announced that its Compo-SiL® vegan leather products received the certification as PETA-Approved Vegan product.
A Silicone Based Vegan Leather Suitable for Mass Production
The certificate by the American animal rights organization PETA, People for the Ethical Treatment of Animals, indicates that none of the ingredients, formulations, or finished products of the Compo-SiL® vegan leather contains animal-derived ingredients.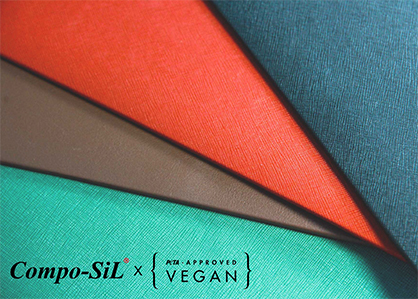 © 2023 Compo-SiL®
Cruelty-free Is a Key Belief of Compo-SiL®'s Brand Mission

It is the fundamental conviction of General Silicones since its founding to "Helping improve our life quality and creating a pollution-free environment for our next generation," which is not only expressed in the company mission statement but strived for by management and staff.

"Receiving the PETA certification is an expression of our commitment to developing sustainable, non-toxic, non-hazardous, green, and environmentally friendly products to achieve the Group's sacred mission of helping improve our life quality and leave the next generation a pollution-free environment," said Michael Lin, President and CEO of GS.

A Silicone Vegan Leather Suitable for Many Applications

The Compo-SiL® silicone vegan leather is used in many sectors, including the automotive industry, vegan bags, sporting goods, medical and healthcare products, FHE, consumer products, and many more.

Manufacturers looking for PETA-Approved Vegan leather benefit from the unique properties of silicone rubber, which, combined with the unique patented Compo-SiL® technology, allow for easy adhesion integration of mass production processes.

Sourcing managers and manufacturers interested in Compo-SiL® vegan leather can reach the General Silicones sales team at compo-sil@gsweb.com.tw.
Related News
Latest News Textiles & Apparel / Garment
More News from TEXDATA International

Latest News