Textiles & Apparel / Garment
2022-09-01
Durak Tekstil adds art and power to apparel production

© 2022 Durak Tekstil
Durak Tekstil, which has qualified threads with different features for the garment and fashion industry, draws attention with its multi- color art and design aspects as well as its products at the sectoral exhibitions it attends. The company has successfully left CNR KONFEK behind and will meet with the sector again at IGM 2022 and Fashion Tech Izmir.
Durak Tekstil, one of the leading manufacturers of industrial sewing and embroidery threads, adds value to the garment and ready-to-wear industry with its colorful and different products it developed and produced. Durak Tekstil has many different synthetic, natural and recycled threads in its portfolio, putting its signature under innovations that combine design and functionality. The company, strengthening its ties with the garment industry day by day, not only exhibits its innovative products at the exhibitions it attends, but also presents its sustainability and art-oriented vision.

Durak Tekstil participated in the CNR KONFEK 2022 held at IFM on August 3-6 and will continue to meet with the sector at the IGM 2022 to be held in TÜYAP on September 8-11, and then at the Fashion Tech Izmir on October 12-15. Making a difference with its sustainability and R&D oriented studies, the company also highlights artistic creativity with its stand concept, which is equipped with natural, technical and recycled thread concepts. Durak Tekstil Board Member and Marketing Director Yi?it Durak stated that they address a market with high potential and noted that it is of great importance for their brand to come together with the entire supply chain of the garment industry.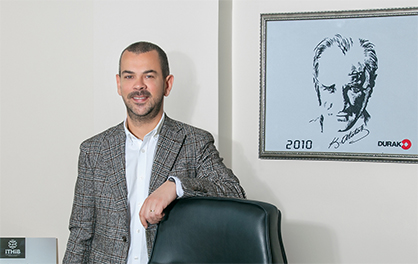 Yigit Durak © 2022 Durak Tekstil
Saying; "We do not see ourselves as just a thread manufacturer, we focus on developing creative sewing and embroidery solutions for all segments we serve, from bedding industry to footwear industry, from automotive interior decoration to technical applications," Durak underlined that they are an industrial solution provider with their strong product portfolio and dyeing capacity. He disclosed: "Durak Tekstil with 50 years of experience in the industry and the power to reach the global market, has always taken into account the growth potential in the garment industry. We can offer products with high added value to the garment industry with our technical threads in addition to our threads produced from polyester and natural fibers. We have adopted the principle of making our brand value synonymous with quality in the market since we are institutionally a quality-oriented company and we have achieved successful results. We will continue to offer attractive products to both the local and international garment industry in this context. We basically display our quality, R&D power and design/art ability in the exhibitions. The garment supply chain welcomes the functionality and design power of our threads with great interest."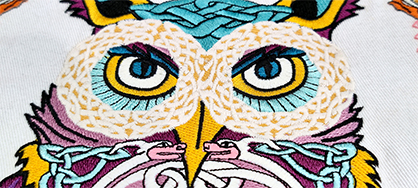 © 2022 Durak Tekstil
"We are the most reliable partner in the thread for accelerating fashion and increasing diversity demand"

Yigit Durak pointed out that the seasons are accelerating and the demand for personalized products is increasing in the fashion and retail sector, and mentioned that 4 or more collections are offered to the market in one season, not 2 anymore. He said: "The garment industry is facing a huge market demand. Both their production times have been shortened and they need to produce more product diversity in less quantity. They also need to reorganize their supply chains based on this acceleration and diversification. That is why they need reliable partners. As Durak Tekstil, we position ourselves as a reliable partner in the garment industry. Both our product variety and our dyeing and color richness reveal our strength. Therefore, we can supply the threads that our customers demand from us as soon as possible and in the quantity they want, while doing this, we do not compromise on quality and meet all the necessary standards."

Sustainability and functionality meet in the design

Yigit Durak, defining Durak Tekstil as a sustainable textile company, explained that they act within this framework from raw material supply to production processes. He said: "Necessary investments were made for the protection of natural resources, especially clean water resources, and successful results were achieved" and informed that their carbon footprints are further reduced every year and the recycling facility, which saves 25% from the amount of natural gas used, is also operating successfully.

Durak, stating that the new functional threads developed by the R&D department appeal to different usage areas, continued his words as follows: "As a sustainable textile company, it was a strategic step to highlight the functionality and we have been doing this for many years. 19 of our R&D projects have been successfully completed with government support to date. For example, our flame retardant aramid threads were one of these projects. We can realize highly innovative applications in smart textile and clothing products with our conductive threads. Our reflector threads are an ideal solution for decorative applications as well as safety clothing."

Durak expressed that they have developed attractive products for the garment industry, saying: "We are in the final stages of development for our new product, which will especially help to eliminate the balance problem in patients and the elderly. In addition, we have threads that prevent sweat, odor and fungus formation. Clothes become safer and more comfortable thanks to these threads. Our threads with superior strength, as well as their superior flexibility and color diversity, show successful performance in all kinds of embroidery and decoration processes in the production of garments. As for dyeing, our dye diversity and production capacity increased with the new investment this year. We store the dyed thread samples we produce with special code plates, and when our customers demand later, we produce them again in the same color and technical specifications. This is an advantage that garment professionals especially seek in terms of brand and production continuity. In addition, we will announce new developments to the sector in line with the demand from the manufacturers for color matching and color compatibility."

"Our cooperation with the sector will increase in the coming period"

Relaying that they will continue to participate in leading exhibitions both in Turkey and internationally, Yigit Durak noted that they had serious meetings at the exhibitions and received positive feedback from them. He concluded his words as follows: "CNR KONFEK, which was held for the first time, pleased us by providing the sectoral meeting and with the number of visitors. Numerous parts of the industry took part in this exhibition. We will host our visitors at the 120 m² stand at the IGM 2022 in September, which is of great importance for the sector. We attach great importance to IGM as well. We will highlight our latest products, application possibilities and artistic creativity on this platform to present to the local and international industry. Our third meeting address with the garment industry will be Izmir. Although Fashion Tech 2022 is a local exhibition, it draws attention with its growth potential. We look forward to meeting with garment and fashion manufacturers and designers by participating in the exhibition, which we supported last year as a sponsor."

Related News
Latest News Textiles & Apparel / Garment
More News from TEXDATA International

Latest News