Sustainability
2023-05-17
Revisiting GCA Alumni: How EON, Dimpora & saltyco are powering the future textile industry

Anna Beltzung, Dimpora, Julian Ellis-Brown, saltyco and Natasha Franck, EON. © 2023 H&M
To radically transform the textile industry, the boldest ideas must succeed. Here, H&M Foundation checks in with three future-shaping innovators whose digital tools, ground-breaking materials, and regenerative processes are reshaping the textile industry in real-time.
The Global Change Award is a global innovation challenge seeking bright minds that can reinvent fashion and change the way it is seen, worn, and made. Every year, H&M Foundation selects and support the most impactful innovations with the ultimate aspiration of turning the entire textile industry planet positive. EON, saltyco and Dimpora are all past winners who are now part of the GCA Alumni, a group of brilliant minds from across the world that share learnings and network with each other, and that are supported by H&M Foundation and our partners.
EON's digital ID is enabling over 100 million items to be resold and recycled

"EON embeds principles of connectivity, intelligence and circularity in hundreds of millions of products, and has built some of the industry's most fundamental product data infrastructure for circular commerce: connecting data between suppliers, brands, resellers, recyclers, customers, and more," declares EON's founder and CEO Natasha Frank.

According to her, every single product has a story to tell: from where and how it was made, to when and by what brand it was sold. EON gives the world's products a voice — in the shape of a digital ID — that unlocks total traceability and boosts the resale and recycling of discarded items.

Since winning the Global Change Award in 2017, EON has scaled at lightning speed and entered into global partnerships with retail heavyweights like Net-A-Porter and Zalando.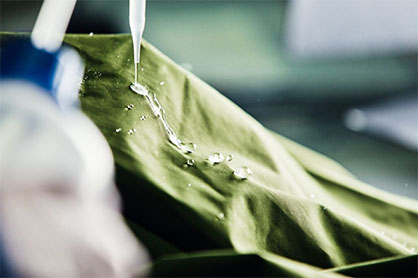 Dimpora lab. © 2023 H&M
"EON was just an idea when I applied for the GCA. Winning the award encouraged me to turn it into a business, and seven years later, here I am."

Natasha Franck

In seven short years, the company has enabled more than a hundred million products to become digital and traceable. Still, these astounding numbers are just a fraction of the 80 billion pieces of clothing sold worldwide yearly. But the company's implementation rate is constantly adding speed, and to Natasha Franck, reaching billions of products will be achieved within this decade.

"In five years, every product will have a unique digital ID, giving every product a voice and ensuring products are valued, managed and utilised to benefit our society, economy and environment. EON's technology is powering that future."

Dimpora's mineral-based membranes are moving from lab to launch

The clothes designed to shield us from the elements are almost exclusively crafted from materials that harm the environment. As a consequence, conventional activewear presents a conflict between the desire to experience the natural world, and the desire to maintain it. With biodegradable, non-toxic and mineral-based membranes, Dimpora is resolving this conflict.

"We push for circularity of our membranes and laminates, ensuring we design products with an end-of-life strategy. We use our platform technology to turn the most circular and sustainable raw materials into functional membranes," says Dimpora's founder and CTO Anna Beltzog.

When winning the GCA in 2019, the company had only developed early lab samples based on co-founder Mario Stucki's PHD thesis. The win catalysed their scaling journey.

"The accelerator programme opened up doors and allowed us to build a network in three textile hubs worldwide. And what really helped was the financial contribution, the help in marketing materials, and the recognition in the industry: we were taken seriously!"

Anna Beltzog

Four years in the making, Dimpora has grown from a team of two to a company of eleven and in 2022, the start-up commercialised its first product.

"We are now producing thousands of square meters in a single production run. This made it possible to serve our first commercial order with the Swiss glove brand Snowlife in 2022. And the re-order is already delivered for the coming season."

Saltyco's latest pilot can produce 400 tonnes of regenerative fibre-filler

BioPuff by saltyco isn't a vegan alternative to goose down; it's a regenerative alternative to it. With cutting-edge technology, saltyco turns native wetland plants into fibre-filler and heals damaged lands in the process.

"For the textile industry to reach net zero, both wetland regeneration and the move to healthier textiles must happen. BioPuff is a solution that brings these two urgent challenges together in one solution," says Julian Ellis-Brown, co-founder and CEO of saltyco.

The team's disruptive idea won them the GCA in 2022, an event transforming their start-up journey in a number of ways, according to the founders.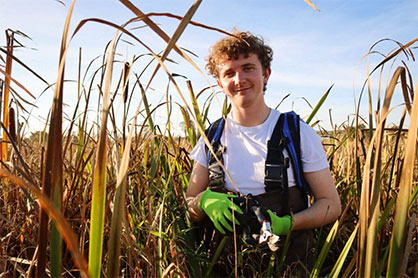 Julian Ellis-Brown harvesting bulrush plants. © 2023 H&M
"The win helped build confidence with investors as it showcased an industry-leading organisation was getting behind our idea. The GCA also built traction with brands, exposing us to more innovators within fashion who are keen to explore next-generation textiles."

Julian Ellis-Brown

Introducing a novel technology and a game-changing material innovation to society is a time-consuming and complex process. Currently, the saltyco team is focusing on sampling, product development, and launching a seed funding round.

"Our new pilot machinery will have the capacity to produce 400 tonnes of BioPuff per year, regenerating thousands of hectares of wetland and locking tens of thousands of kilograms of CO2 back into the ground," says Julian Ellis-Brown.

Explore all past GCA winners and subscribe to the GCA Newsletter to track their progress.

Related News
More News from TEXDATA International

Latest News