Spinning
2022-09-08
Optimizing draw frame performance

Regular maintenance of the draw frame is crucial to achieve high productivity and excellent sliver quality. © 2022 Rieter
Draw frames play a key role in every spinning mill in determining the quality of the yarn. To keep the quality of sliver and yarn consistently high and achieve high machine productivity, maintenance of the draw frame is of utmost importance.
Regular maintenance of the draw frame is crucial to achieve high productivity and excellent sliver quality.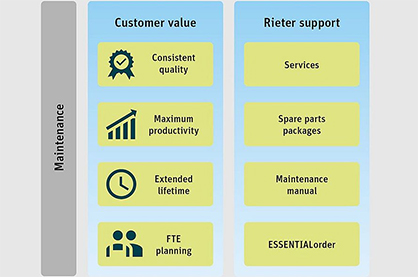 Rieter service offering including ESSENTIALorder enable optimum maintenance. © 2022 Rieter
Mill managers today face increasing production requirements and a shortage of manpower at the same time. Machines must run constantly at maximum efficiency and availability, while requiring as little maintenance as possible.

Nevertheless, maintenance is still an important part of daily business. Each unexpected equipment failure can:

interrupt the production schedule,

increase the amount of waste,

reduce the sliver and yarn quality,

reduce the lifetime of components or the machine.

For example, a short length of faulty sliver delivered by the draw frame is enough to result in several meters of inadequate or low-quality yarn. Dirty or dusty guide rollers and guiding tubes can cause inconsistencies in the sliver thickness. Missing lubrication of the drive elements can reduce component lifetime because of drive slippage.

Benefits resulting from regular maintenance

All of that can be prevented by regular maintenance. To support customers in their daily challenges, Rieter provides a comprehensive portfolio of spare parts and services including parts packages to improve the performance at all stages of the machine lifetime. Furthermore, maintenance booklets are available summarizing and illustrating necessary maintenance procedures. They include recommendations for cleaning and lubrication of critical areas of the draw frame and provide tables with suggested parts exchange intervals.

While the maintenance booklet helps perform regular maintenance, ordering and stocking parts is made easy by ESSENTIALorder. This online platform includes a customer specific spare parts catalog and assists spinning mills in on-time ordering of parts as well as optimizing the amount of stock. The system is available 24 hours a day, enabling customers to submit orders from anywhere at any time.

As a result, downtimes can be prevented and the draw frames keep running at maximum efficiency. It will be possible to achieve higher productivity, excellent sliver quality and increase the lifetime of the machines. Rieter service specialists support customers in maintaining their draw frames to reach their targets.

Related News
More News from Rieter Textile Systems

Latest News