Retail & Brands
2023-02-23
M&S teams up with Breast Cancer Now to raise vital awareness of signs and symptoms of breast cancer in its fitting rooms
This month, M&S is rolling out signage to more than 1,500 fitting rooms with guidance on the signs and symptoms of breast cancer to raise awareness among its 22 million Clothing & Home customers.
Initiative with retailer's long-term charity partner, Breast Cancer Now, will see guidance on the signs and symptoms of breast cancer in more than 2,000 M&S fitting rooms across the UK

Idea came from 15 colleague submissions through M&S' CEO suggestion scheme

Roll-out coincides with M&S' new campaign - 'Love your boobs. It starts with a bra fit' – which celebrates boobs of all shapes, sizes and life stages

M&S' 2000 trained Bra Fitters fit more than 900,000 customers every year – the equivalent of 17,000 customers each week

As the UK's biggest bra retailer – last year M&S sold 21 million bras – the signage will be seen by millions of people every year and situated in every cubicle in the women's and lingerie fitting rooms at 110 stores across the UK.

Each week M&S' 2,000 trained Bra Fitters fit more than 17,000 customers – the equivalent of circa 900,000 customers every year.

The retailer has been in a partnership with Breast Cancer Now (via its heritage charity Breakthrough Breast Cancer) since 2001, and the signage will include the charity's logo and a QR code which customers can scan to take them to Breast Cancer Now's website to find out more.

The move is designed to aid early detection and encourage more people to regularly touch, look and check their breasts. Breast cancer is the most common cancer in the UK, accounting for three in 20 (15%) of all cancer cases in females and males combined. Around 55,000 people are diagnosed with breast cancer every year in the UK, however the sooner the disease is diagnosed, the better the chances of treatment being successful.

The signage has also been rolled out across M&S' colleague changing rooms.

The idea originated from 15 M&S colleagues, including Savanna Binyon, who submitted it to M&S' colleague suggestion scheme – Straight to Stuart – which launched in May last year. The scheme encourages colleagues to share ideas and views with the CEO of M&S, Stuart Machin, directly via Microsoft Teams.

Savanna Binyon, Trained Bra Fitter and Section Manager for Lingerie at M&S in the Rock Shopping Centre Bury, said: "At M&S we get the opportunity to meet so many incredible women and through our Bra Fit service help them feel more confident about their boobs, so I'm really pleased that M&S is putting this idea into action. I suggested it after realising that so many of my friends didn't know how to check their boobs for signs of breast cancer. I thought the signage could help our customers - and colleagues - by encouraging them to touch, look, check, and speak to their GP if something doesn't feel or look quite right."

Alongside its efforts to raise awareness, in over 20 years, M&S has raised £33 million for Breast Cancer Now through sales of post-surgery bras, swimwear and more, and through 900,000 customers* choosing Breast Cancer Now as their chosen Sparks charity.

Baroness Delyth Morgan, Chief Executive at Breast Cancer Now, said: "We're delighted to be building on our partnership with M&S by raising vital awareness of breast cancer signs and symptoms with people in M&S changing rooms across the country. Currently, 1 in 7 women in the UK will receive the devastating news they have breast cancer – with this set to increase to 1 in 6 by 2050, it's more crucial than ever that people know the signs and symptoms of the disease.

"We know that the sooner breast cancer is diagnosed, the better the chances of treatment being successful, making it vital that people get to know their 'normal', along with the signs and symptoms of breast cancer, and to get any new or unusual changes checked out by their GP as soon as possible.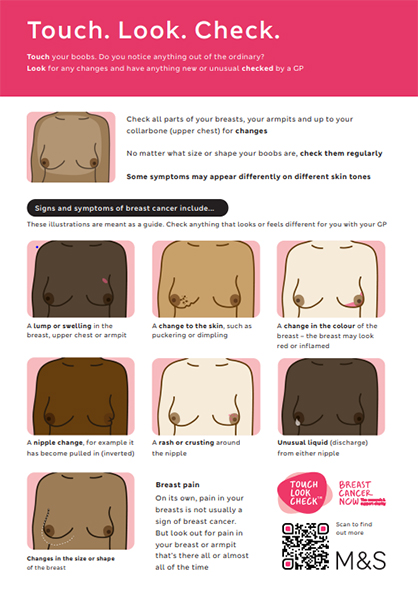 © 2023 M&S
"By arming millions of people across the UK with this health information, we'll help ensure more people who have breast cancer get diagnosed sooner, so they have a better chance of treatment being successful. A huge thank you to all the M&S colleagues who submitted this idea to Stuart and to M&S for launching this vital campaign."

Related News
Latest News Retail & Brands
More News from TEXDATA International

Latest News