ITMA 2023
2023-05-11
Research results at ITMA from the German ITM
From June 08th to 14th, 2023, the Institute of Textile Machinery and High Performance Material Technology (ITM) of TU Dresden will be exhibiting at ITMA 2023 in Milano (Hall 3, Booth B309). The ITM will provide a comprehensive overview of its current research in the field of machine and product development along the entire textile process chain.
The provision of near-net-shape, cut-free fabrics is demanded for numerous applications. However, there is a limitation to fixed fabric widths within the fabric production. This limitation has been solved by the innovative development of a width-variable, elastomer-based weaving reed that can be used for wide weaving machines. This makes it possible to adjust the fabric width and thus the warp thread density individually to the required contour during the weaving process. The development significantly reduces the amount of waste due to subsituted cutting processes and enables the production of new types of fabric structures. This weaving reed and its functionality will be presented at ITMA 2023.

As an essential part of textile technology research activities, there will be insights into machine development at ITM at ITMA 2023. Process and product innovations go hand in hand with the development of new machine concepts. The basis of the development competences at the ITM is the multitude of analysis methods for processes and products that can be carried out at the ITM. Based on this, the ITM uses various CAD tools, FEM and calculation software as well as various additive manufacturing methods in the design development process. We gain detailed design-technological knowledge by quickly implementing the developments in the institute's own large machine park.

The diverse possibilities offered by the structure and process simulation of textile high-performance materials and textile manufacturing processes will also be presented. By means of multi-scale modelling and simulation, a profound understanding of materials and processes is achieved at the ITM. Finite element models on the micro, meso and macro scale have been developed and validated for this purpose. Examples from current ITM research projects demonstrate the various possibilities and areas of application of modern simulation methods in the field of textile technology.
At the ITM, textile production processes are characterised by means of commercially available and specially developed measuring systems and correlations between yarn, process and product parameters are determined. The aim here is to enable the already highly productive textile processes even further in terms of increased quality and productivity. Depending on the complexity, these correlations are described using classical analytical mathematics or machine learning methods / artificial intelligence. On the basis of such findings, processes are specifically optimised in the sense of smart production and their effectiveness is proven under industrial conditions. Related examples will be presented at the ITM stand and can be discussed with the staff on site.

The ITM presents novel functional solutions in the field of e-textiles. Examples include specifically controllable force feedback gloves, which in VR environments or in medical/surgical application scenarios make the action to be performed much more intuitive and thus more precise. Another exhibit focuses on an innovative functional leggins that makes it possible, among other things, to provide multiple sclerosis patients with supportive muscle stimulation appropriate to the situation and thus make their everyday lives considerably more worth living.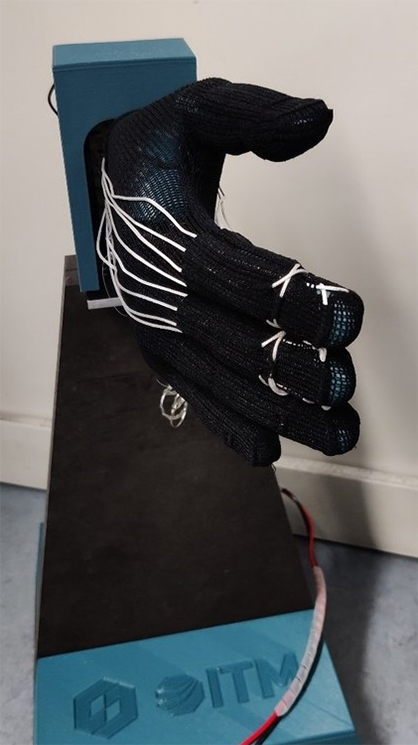 © ITM/TU Dresden
At ITMA 2023, ITM will also be presenting exhibits from the field of textile construction. These include a partially embedded textile mesh girder, which was developed using an innovative textile manufacturing technology based on the multiaxial warp knitting technology available at the ITM, in cooperation with the Institute of Mechanical Engineering at the TU Dresden. By developing an individual warp yarn insertion, manipulation and take-off system as well as forming methods tailored to the requirements, it is now possible to produce tailor-made textile semi-finished products, e.g. for use in wall and ceiling panels. These textile latice girders represent a resource-saving alternative to conventional steel mesh girders due to the reduced concrete cover requirement as well as an additional cavity for media and cable routing.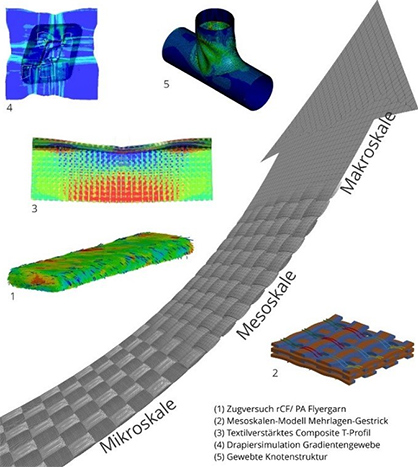 Structure and process simulation of textile high-performance materials and textile manufacturing pro-cesses © ITM/TU Dresden
Furthermore, a new type of carbon reinforcement structure, is presented, whose fibre course is based on biological models. The gradual fibre course based on the biological model of a peltate shoot-axis-leaf transition leads to an orientation of the carbon reinforcement in line with the load path, which minimises the need for concrete and reinforcement. This carbon reinforcement structure was produced with the help of a robot-assisted direct yarn placement process developed at the ITM. For the development of carbon concrete TU Dresden was awarded with the German President's highest prize for innovation and technology, the German Future Prize 2016.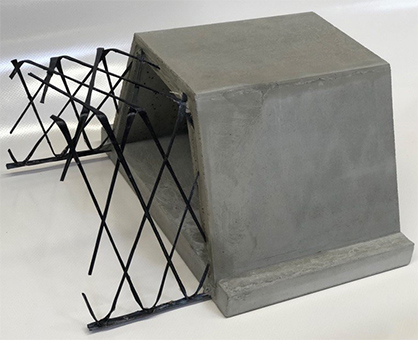 Embedded textile mesh girder © ITM/TU Dresden
Moreover, the development and implementation of innovative yarn constructions based on recycled high-performance fibres (e.g. rCF, rGF, rAR) for sustainable FRPs is successfully promoted at ITM. By use of a special carding machine, recycled fibres are opened up, separated and joined to form a wide, uniform ribbon. Subsequently, innovative hybrid yarn constructions made of evenly mixed recycled high-performance and thermoplastic fibres with variable fibre volume fractions can be manufactured by means of various spinning technologies. Selected yarn constructions and components will be showcased at ITMA. This technology was awarded with the German Raw Material Efficiency Prize 2016 in cooperation with the company Oskar Dilo Maschinenfabrik KG.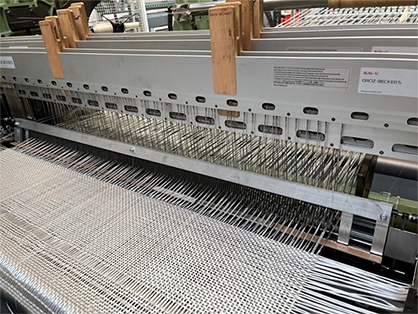 Width-variable, elastomer-based weaving reed © ITM/TU Dresden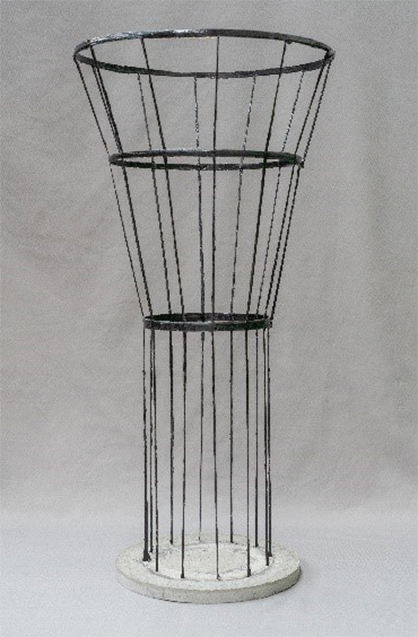 New type of carbon reinforcement structure based on biological model © ITM/TU Dresden
Related News
More News from Institute of Textile Machinery and High Performance Material Technology (ITM)

Latest News