Research & Development
2023-02-23
Toray establishing a new research facility
Toray Industries, Inc., announced that it will set up a new research facility at its Nagoya Plant in Aichi Prefecture to accelerate R&D for a green transformation and advanced mobility.
The facility will leverage the concept of fusing green and nano-based technologies to develop materials by integrating diverse elemental technologies from within and outside the Toray Group. It will also incorporate chemical engineering perspectives from the research stage and reinforce the company's ability to propose digital solutions in creating a framework to bring together materials development, process design, and customer proposals in a drive to cut greenhouse gas emissions across the economy.

The Group has always endeavored to provide innovative technological and advanced materials solutions to the world's challenges in balancing development and sustainability. Its high-performance resins, carbon fiber composite materials, and other innovative offerings have helped cut greenhouse gas emissions amid the world's mounting environmental challenges. The company recognizes the need to focus on eco-friendly materials while pursuing functionality for the economy to become sustainable.

It is also vital to respond rapidly to the numerous technological mobility advances that the world has witnessed in recent years. They have included electrification and weight savings to cut green house gas emissions. Other noteworthy contributors have been automated driving, urban air mobility, and drone technologies.

The new research facility will be a hub for customer and academia collaboration and global R&D to accelerate Toray's green transformation and explore advanced materials for myriad advanced mobility applications.

This facility will bolster materials development that helps achieve economic sustainability. It will do so by bringing together polymer, chemicals, and carbon fiber composite materials researchers, as well as digital transformation professionals and developers with chemical engineering expertise to drive nanotechnology advances. Such progress would incorporate materials informatics and computational chemistry in such areas as polymer design, nanostructure control, and composite material design. The facility would integrate nanotechnology with recycling, biorefining, and other green technology and reduce environmental impact from process perspectives.

The facility will be adjacent to the Environment and Mobility Development Center and the Advanced Composites Center, both of which engage in mobility-related development and evaluations. The goal is to generate synergies by integrating R&D and digital solutions proposals. Toray will reinforce open innovation internally and externally by creating an open laboratory for cocreation with customers and academia while deploying a framework to deepen communication among researchers and encourage ideas to emerge.

Since its foundation, Toray has pursued R&D into advanced materials by bolstering basic research and elemental technologies while integrating technologies and pushing their boundaries in the conviction that R&D paves the way to the company's future. Toray will keep helping to materialize a sustainable economy by innovating advanced materials from long-term perspectives in line with its corporate philosophy of contributing to social progress by delivering new value.
Overview of new research facility

1. Three floors with a total floor area of around 8,600 square meters

2. Located at Nagoya Plant in Aichi Prefecture

3. Scheduled completion in first quarter of FY2026

4. Key features

(1) Technological fusion and open innovation facilities

• Chemical laboratory for wide-ranging of basic and applied research

• Prototyping and processing area to demonstrate technologies

• Open laboratory

(2) Close communication between researchers to foster innovative ideas

• Housing 140 people in office and experimental area on one floor

• Open meeting space

(3) Energy-efficient facilities

Exterior of new research building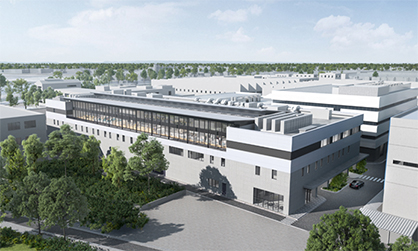 © 2023 Toray
Related News
Latest News Research & Development
More News from Toray Engineering Co. Ltd.

Latest News