Research & Development
2022-05-05
Johannes Diebel is the new managing director of the "Forschungskuratoriums Textil" (Textile Research Board) in Germany
Diebel has been reorganising the FKT (Forschungskuratoriums Textil) since 2017 as head of research together with the executive board member, Uwe Mazura, who is also chief executive of the German Textile and Fashion Industry Association (Gesamtverband textil+mode). This included the strategic realignment of research to the future needs of the industry as well as a guideline for the textile future with the "Perspectives 2035".
"The future is being built from textiles".

Franz-Jürgen Kümpers, Chairman of the Board of the FKT: "Textiles are part of the solution in many places and in many areas of our daily lives: in clothing, of course, but also in a multitude of technical textiles, e.g. in filters for clean air and clean water, hygiene and medical textiles, in rotor blades of wind turbines, in cars or aeroplanes. Besides product innovations, circular economy, recyclability and CO2 neutrality are the important future topics in the textile industry. We wish Mr Diebel a lot of energy to implement these so important topics together with the partners in the research institutes and medium-sized industrial companies."
The FKT is the research association with the highest number of applications within the Industrial Cooperative Research (IGF), which builds a bridge between basic research and economic application.

Johannes Diebel: "The future is being built from textiles. Textile research holds essential technologies for an advanced circular economy and innovations for a climate-neutral economy. We see this as one of our main tasks in the coming years and want to develop the FKT into an important "think tank" in the textile industry. The aim is to accelerate the pathways from research to application and to provide strategic support to companies in the industrial transformation."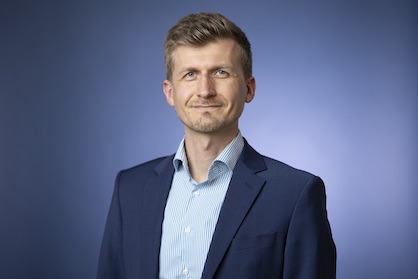 Johannes Diebel (c) 2022 Gesamtverband textil+mode
Further information on the FKT can be found at www.textilforschung.de.

Related News
Latest News Research & Development
More News from TEXDATA International

Latest News