Nonwovens / Technical Textiles
2022-09-15
Toray expanding Airlite™ automotive interior sound acoustic insulation business in Europe
Toray Industries, Inc., announced today that subsidiaries Toray Textiles Central Europe s.r.o. (TTCE) and Toray Advanced Materials Korea Inc. (TAK) have set up new facilities in the Czech Republic to expand the Airlite™ automotive interior sound acoustic Insulation business in Europe. This material enhances passenger comfort by suppressing noise from driving, vibrations, and from outside vehicles. This new facility at TTCE's facility in the Czech Republic will go on line in October this year, with an annual production capacity of 1,200 metric tons.
Europe has spearheaded efforts in the developed world to steadily tighten automotive noise regulations, including for internal combustion engine models. Demand should surge for electric vehicles in the next few years. These automobiles are essentially free of engine sounds, so drivers and passengers are more likely to notice road and tire noises. Quieter cabins feel more comfortable and luxurious. Markets for top-performance sound absorbing materials should thus continue to grow. Moreover, as the growth of the Urban Air Mobility (UAM) industry using propellers is expected in the future, the lightweight sound-absorbing application field will be further expanded.

Airlite™ is a melt-blown non-woven sound-absorbing material made of lightweight polypropylene and polyester. Melt-blowing extrudes melted polymers through nozzles and sprays them to form a nonwoven fleece. Airlite™ delivers exceptional sound absorption across a broad frequency range. It is lighter than conventional counterparts, thereby reducing energy consumption from driving.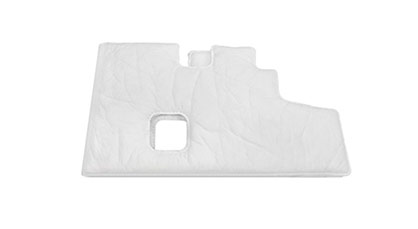 © 2022 Toray
The new Airlite™ facilities will complement TTCE's airbag fabric operations, helping it to expand its automotive materials business. TAK looks to leverage the new facilities to bolster its automotive interior sound-absorbing materials business in Europe and step up efforts to serve automakers and leading parts manufacturers as Europe's electric vehicle market grows.

Toray will develop products incorporating recycled materials and other eco-friendly offerings to add value and match customer needs. It will collaborate with customers in its drive to reduce environmental impact and materialize a sustainable economy, transforming societies in keeping with its commitment to innovating ideas, technologies, and products that deliver new value.

Under the Toray Group Sustainability Vision, the company aims to leverage its innovative technologies and advanced materials in creating solutions that are essential for the international community to overcome the challenges of pursuing sustainable development.

The Toray Group will endeavor to become carbon neutral by 2050 by continuing to contribute to better, more diverse lifestyles and sustainability.

Airlite™ Overview

1. Production

(1) Scale: Around 1,200 metric tons annually

(2) Site: TTCE facility in Prost?jov, Czech Republic

2. Features

(1) Fine fibers for high-density and exceptional sound absorption

(2) Polyester staple fibers for thickness and compression recovery

(3) Excellent sound absorption owing to thickness

(4) Lighter than conventional sound-absorbing materials

3. Key sound absorption applications

(1) Automobiles, Urban air mobility and other vehicles

(2) Electronic equipment

Related News
Latest News Nonwovens / Technical Textiles
More News from Toray Engineering Co. Ltd.

Latest News