Market Analysis & Forecasts
2023-03-30
Smart textiles market to reach USD 16.51 Billion by 2030 due to advancements in material science and technology | by SNS insider
Based on SNS Insider analysis, the smart textiles market is expected to grow rapidly in the coming years due to the increasing demand for wearable technology, sports and fitness applications, medical applications, advancements in material science and technology, and government initiatives and funding. SNS Insider reported that the Smart Textiles Market had a valuation of USD 2.97 billion in 2022, and is projected to achieve a market size of USD 16.51 billion by 2030, with a compound annual growth rate (CAGR) of 23.9% during the forecast period spanning from 2023 to 2030.
Smart Textiles Market Scope & Segmentation By Type, By Function, By Vertical, By Regions | Global Forecast 2023-2030
Smart textiles represent an exciting area of research and development that has the potential to revolutionize various industries. Their integration of technology and textiles provides endless possibilities for innovation and creativity, and we can expect to see more groundbreaking applications of smart textiles in the future.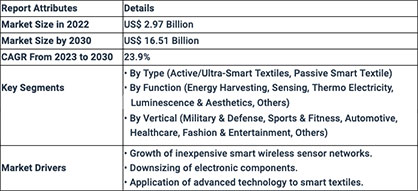 Market Analysis

The growth in the smart textiles market is expected to continue in the coming years. Smart textiles have a wide range of applications, including healthcare, sports and fitness, military, and fashion. Advances in technology and materials science are making it possible to create ever-more sophisticated textiles that can perform a wider range of functions. As the population continues to age and the demand for healthcare services grows, smart textiles are likely to play an increasingly important role in improving patient outcomes and reducing healthcare costs.

Impact of Russia-Ukraine Conflict

The impact of the Russia-Ukraine conflict on the market is complex and multifaceted. While supply chain disruptions and decreased consumer demand are certainly challenges for the industry, there may also be new opportunities for growth in certain sectors. As the conflict continues to evolve, it will be important for smart textiles companies to stay informed and adapt to changing market conditions.
Key Regional Development

Advancements in technology are playing a significant role in driving growth in the North American smart textiles market. Emerging technologies such as wearable sensors, smart fabrics, and conductive materials are creating new opportunities for innovation in the market, and are helping to drive demand for smart textiles-based products and services. Another factor contributing to the growth of the North American market is the region's high rates of food consumption. This has led to an increased demand for smart textiles-based food packaging and preservation solutions that can help to extend the shelf life of perishable products and reduce food waste.

Key Takeaway from Smart Textiles Market Study
In recent years, the passive smart textile segment has dominated the market, and it is anticipated to continue its reign in the forecast period. Passive smart textiles are designed to respond to external stimuli such as temperature, light, and pressure.
The energy harvesting segment is gaining popularity due to its potential to reduce the dependence on conventional energy sources, which are not only finite but also harmful to the environment. Additionally, energy harvesting technology enables the development of self-powered and sustainable smart textile solutions.

Recent Developments Related to Smart Textiles Market

Microsoft has recently made significant progress in the field of smart fabric technology by developing a fabric that can detect objects and gestures. This innovation is a result of the company's relentless efforts to explore the potential of textile-based sensors and bring new dimensions to the world of wearable.

Researchers at Louisiana State University have developed a new type of smart textile that can detect fever in infants. This innovative technology is expected to revolutionize the way healthcare professionals monitor the health of newborns and young children. These sensors can detect changes in body temperature and alert caregivers to potential signs of fever in infants.

Buy Exclusive PDF Copy of the Research Report along With ME Sheet:
https://www.snsinsider.com/checkout/2096

Related News
More News from TEXDATA International

Latest News