Knitting & Hosiery
2023-06-08
ITMA 2023 - Exhibit concept: SHIMA SEIKI Reborn

i-DYCS SWG-XR © 2023 Shima Seiki
Leading flat knitting technology firm SHIMA SEIKI MFG., LTD. of Wakayama, Japan, is participating in the International Textile Machinery Association exhibition (ITMA 2023) in Milan, Italy.SHIMA SEIKI's unswerving tradition of introducing new technology at ITMA under its guiding philosophy "Ever Onward" remains intact for 2023, with a brand-new lineup consisting of new machines and next-generation prototypes found at its booth in Hall 4, Stand D209.
The next-generation group of machines is represented by the letter 'R' which stands for 'Reborn' and is also the basis for SHIMA SEIKI's exhibit concept: "SHIMA SEIKI Reborn."
SHIMA SEIKI Reborn represents a return to origin, for the company and for its products, and a renewal of passion and commitment toward innovation. At the same time it represents a renewal of SHIMA SEIKI's commitment to its customers, the industry and the environment, as all aspects of each machine were re-evaluated in terms of its purpose, the way it is manufactured, how it is used and how it impacts the environment. That renewal has been applied to the company's entire product lineup from WHOLEGARMENT® knitting machines to shaping machines, glove knitting machines, and even computerized cutting machines, have undergone complete re-evaluation.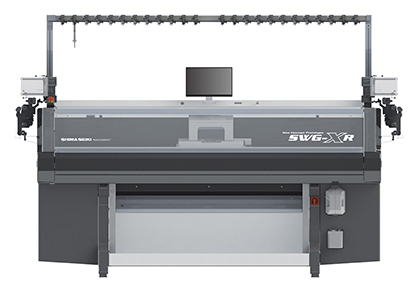 SWG-XR Prototype © 2023 Shima Seiki
Of the 9 knitting machines SHIMA SEIKI is exhibiting at its 600 sq. meter booth, 8 machines will be part of the next-generation lineup. More than 300 items will be on display as proposals for knitted applications in various fields ranging from fashion, sports, shoes, bags and accessories to medical, safety, automotive, aeronautical and other wearable and industrial textile applications.

In addition to machine technology, SHIMA SEIKI's computer graphic design system and software will be shown with their latest software upgrades that feature significant improvements in knit programming, 3D functions and speed. Demonstrations will be available for a comprehensive fashion tech solutions package based on realistic virtual sampling and supported by various digital solutions and web services.

There was a time when ITMA exhibitors were required to show only new technology. With a revamped lineup and comprehensive display of its latest products and services, visitors to the SHIMA SEIKI booth can once again feel the excitement of seeing a booth filled with new machines exhibited for the first time.

Description of Main Exhibits
Next-Generation R-Series Machines

Re-evaluated from the ground up, the R-series machines have been revamped across its entire lineup, from WHOLEGARMENT® knitting machines and shaping machines to glove knitting machines, resetting the standard for computerized knitting across the board. Each machine is also a testbed for new features, awaiting feedback from visitors at ITMA.

SWG-XR® PROTOTYPE
Under the WHOLEGARMENT® trademark, SHIMA SEIKI has been setting the standard almost exclusively with nearly 30 years of experience in complete garment knitting technology. Now in its 5th generation, SHIMA SEIKI's SWG-XR® flagship WHOLEGARMENT® knitting machine has raised the benchmark once again for speed, efficiency, quality and reliability. The new name lends tribute to the SWG-X, the world's first 4-needle bed machine that launched a new genre of seam-free knits produced in one entire piece, since its pioneering debut at ITMA 1995 in Milan. Capable of very high quality and stability in all-needle knitting of WHOLEGARMENT® products, SWG-XR® features an all-new spring-type moveable sinker system and a compact, light-weight carriage featuring 4 systems as well as auto yarn carriers. All contribute to increased productivity of more than 25% over the previous MACH2®XS machine, as well as increased product range using a wider variety of yarn for supporting knits for all seasons, and higher quality for knitting beautiful fabrics and silhouettes. Even items that were impossible to knit with the MACH2®XS series can now be knit, including punch lace fabrics, variable stitch patterns, intarsia patterns and efficient double-knitting. A total of three prototype SWG-XR® machines are on display, with each one as a testbed for some new feature, including defective needle detection; efficient, high-quality knitting of 18 gauge fabrics; and automatic yarn end finishing. Also featured is a brand-new user interface for increased connectivity on select machines. SWG-XR® is ready to become the new standard for the next generation in waste-free, sustainable WHOLEGARMENT® knitting.

SES-R PROTOTYPE
Visitors familiar with flat knitting technology could never forget the legendary SES series from SHIMA SEIKI. The world's first short-bed full-fashioning machine could produce shaped pieces for one garment at a time for supporting multi-variety, small-lot, quick-response production. First introduced in the 1980's to a market filled with long-bed machines knitting square fabrics for cut-and-sewn products, it was a machine that challenged the status quo. Now we are challenging the current status quo established by the SES series once again, with the new SES-R. SHIMA SEIKI's next-generation shaping machine lineup has been revamped with an all-new sinker system that is more capable in knitting dimensional sinker patterns, as well as flechage/short-row knitting in combination with a new transfer jack system. Auto yarn carriers eliminate empty courses for significant increase in overall productivity especially when knitting intarsia, as well as in combination with new loop pressers that improve performance in both inverse plating and inlay knitting. Two prototype SES-R machines are on display, with one featuring the all-new transfer jacks and one with the all-new loop pressers.

i-DYCSTM NEW
Presented as a brand-new option for the SWG-XR® WHOLEGARMENT® knitting machine, i-DYCSTM uses knotter units to change yarns on the fly according to the knit pattern. Up to 8 colors are supported per unit, and with 2 units on each side feeding a total of 4 active yarn carriers, 32 colors are supported by i-DYCSTM alone. In addition, by assigning colors to the remaining 12 carriers on SWG-XR®, a total of 44 colors can be used in a single garment. This exceeds the record previously held for maximum number of colors by SHIMA SEIKI's own N.MACH2SIR intarsia machine, but this time the record has been renewed by a WHOLEGARMENT® machine. This gives clear indication as to the priority SHIMA SEIKI places on developments in WHOLEGARMENT® knitting machine technology.

N.SIR123SP

The N.SIR123SP computerized knitting machine with intarsia capability features a special loop presser bed for producing hybrid inlay fabrics with both knit and weave characteristics. Shown in 18 gauge, N.SIR123SP will also feature the special i-Plating® option, capable of alternating yarn colors in any pattern, producing jacquard-like designs in light-weight plain jersey stitch. Plating can be performed within the same course and for individual needles. In combination with the loop presser and spring-type moveable sinker system even greater diversity in knit design is possible.

SFG-R PROTOTYPE
SHIMA SEIKI's original product on which the company was founded was the fully automated seamless glove knitting machine. While the original model evolved to become the current SFG series, SFG-R is its spiritual successor. With a new sinker system, a belt-driven 2-cam carriage and auto yarn carriers SFG-R is a completely new machine for knitting gloves that conform better to the shape of the hand for improved fit. Furthermore its greater design potential offers users the opportunity to break out of the work glove market and into the fashion market.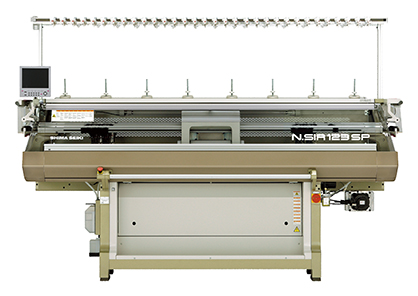 NSIR123SP © 2023 Shima Seiki
SPG-R NEW
Already available for sale while donning next-generation colors is SHIMA SEIKI's pile glove knitting machine, which was originally introduced in 1979. A workhorse machine for knitting work gloves with pile fabric for protection against heat, cold, cutting and abrasion, the original SPG was certainly ready for a model change after 44 years. Completely revamped, SPG-R now features a new sinker system, belt-driven carriage and auto yarn carriers. The new setup gives it the capability for more colors and improved design potential, and offers customers the opportunity to enter markets other than work gloves, with warm and fashionable gloves and mittens with rich pile fabric.

SDS®-ONE APEX4 and APEXFiz®

SDS®-ONE APEX4 3D apparel design system and APEXFiz® subscription-based design software support the creative side of fashion from planning and design to colorway evaluation, realistic fabric simulation and 3D virtual sampling. Virtual samples are a digitized version of sample making that are accurate enough to be used effectively as prototypes, replacing physical sampling and consequently reducing time, cost and material that otherwise go to waste. When a design is approved for production, knitting data which is automatically generated can be converted easily to machine data, allowing smooth communication for digitally bridging the gap between design studio and factory. Before going to production however, the same virtual samples can be used in retail, for example in e-commerce, to gauge consumer response to items before going to market, effectively realizing production based on demand forecasting. In such a way, inventory can be optimized to minimize deadstock waste. SDS®-ONE APEX4 and APEXFiz® therefore help to realize sustainability while digitally transforming the fashion supply chain. At ITMA 2023 new software will be shown that improves realism for virtual samples even further, as well as new intarsia programming software that reduces lead time significantly. Demonstrations are available in various locations throughout the SHIMA SEIKI booth during ITMA.

yarnbank®

yarnbank® digital yarn sourcing web service is the world's first online service for searching and viewing the latest yarns, developed in cooperation with yarn companies from around the world. Registered users can download yarn data for free, for use in fabric simulation and virtual sampling on SDS®-ONE APEX4 and APEXFiz®, avoiding the need to scan yarn on their own. By using yarn that is used in actual production, designers and apparel companies can furthermore rest assured that the simulations created using yarn from yarnbank® are not merely realistic images but accurate representations using yarn that can actually be purchased and used in production. With yarnbank®, the entire supply chain from yarn companies and apparel companies to knit manufacturers can be connected digitally.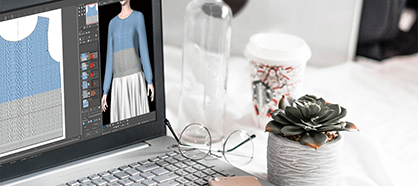 APEXFiz © 2023 Shima Seiki
SHIMA Datamall™ NEW
The SHIMA Datamall™ digital content web service is an online service that allows users to search, browse and purchase a variety of useful data for the planning, production and sales of fashion items. Over 8,000 pieces of data, ranging from knit item data and knit design data to 3D model patterns are available. Users of SDS®-ONE APEX4 and APEXFiz® Design software as well as SHIMA SEIKI flat knitting machines will be able to streamline their operations and further promote the digital transformation of textile manufacturing, thereby realizing a shift toward sustainable manufacturing.

SHIMA KnitManager™
SHIMA KnitManager™ is production management software designed for the flat knitting factory, and was developed as a solution to rethink the traditional planning and production process of knitwear. Visual confirmation of various information such as machine operation status and production progress is available for maximizing productivity and eliminating waste. Online monitoring service allows progress reports to be checked via web application. With abundant experience in the flat knitting industry, SHIMA SEIKI proposes optimal solutions that contribute to customer success regardless of business type, business content or region.
Related News
Latest News Knitting & Hosiery
More News from Shima Seiki MFG., Ltd.

Latest News