ITMA 2023
2023-05-04
ITA at the ITMA: Smart Circular Economy - Digital, sustainable, individual

© ITA
The Institut für Textiltechnik of RWTH Aachen University (ITA) will be exhibiting a digital ring spinning tester on its stand in Hall 3-B304, which spins recycled fibres directly and conventionally with a particularly high content of 60-70 percent. Up to now, recycled yarns have mainly been rotor-spun in this blend ratio. This results in rather coarse yarns and is not suitable for finer textiles such as outerwear. Ring spinning of recycled yarns now enables the spinning of finer yarns and thus a higher application level for recycled materials.
"ITA Aachen and ITA Augsburg are part of the ITA Group International Centre for Sustainable Textiles. Experience our textile innovations at two exhibition booths," explains ITA Institute Director Professor Dr. Thomas Gries. "See our ring spinning tester at booth H3-B304, which spins recycled fibres sustainably and individually in a previously impossible fineness. In addition, there is digital yarn monitoring, which enables new market potentials. Get an idea of the Recycling Atelier of ITA Augsburg at booth H3-A207 and see the textile cycle from used textile to solution steps for industrial implementation together with industry partners. Join us on the Walk4Recycling and follow the path from used textile to a new knitted pullover on a tour of the trade fair. This is how we live up to our claim as the ITA Group: sustainable - digital - individual."
ITA Aachen - Digital ring spinning tester for recycled fibres enables spinning of fine yarns with high recycled fibres content
A unique selling point of the ITA ring spinning tester is the simultaneous spinning in the direct spinning process from the sliver and in the classic ring spinning process. For this purpose, the strength and elongation of the spun yarn are determined online and digitally for the first time. The real-time measurement allows process parameters and yarn properties to be adjusted iteratively and quickly. The ring spinning tester was upgraded from an existing tester to Industry 4.0 standard and is operated via a tablet. Operation via tablet enables the adjustment of process parameters including online quality monitoring remotely from anywhere in the world.
For this purpose, the ring spinning tester is also able to produce fine ring spun yarns. These yarns made from recycled material opens up a multitude of further fields of application for woven and knitted goods. Now, for example, clothing and technical textiles can be made from recycled material, the production of which was not possible before - such as outerwear made from recycled material. The development of new industries and fields of application opens up new market potential for recycled yarns - also and especially for processing in Europe. This creates the opportunity to preserve key technologies and jobs in cost-intensive locations.
Other exhibits such as a smart glove and a smart needle show you how the use of sensors in machine components and wearables makes daily work easier. Smart Glove, for example, is a smart glove based on polymer optical fibres and quantum dots. The quantum dots can be programmed to detect hazardous substances and trigger a fluorescent effect on contact that changes the glove's luminous colour. In addition, we will show other recycling demonstrators in garments and technical textiles on our two stands H3-A207 and H3-B304, demonstrating the range of uses of recycled fibres. One example is a jumper made from 65 per cent recycled carbon fibres and 35 per cent virgin polyester fibres, produced from post-consumer textile waste with ring-spun yarn.

ITA Augsburg - Recycling Atelier: Walk4Recycling

The Recycling Atelier of the Institut für Textiltechnik Augsburg gGmbH on stand H3-A207 presents the textile recycling from used textiles into new products via the various process steps and, together with the industrial partners, opens up solution paths for industrial implementation.

Under the headline "Walk4Recycling", a tour of the fair shows the cycle of used textiles from used knitwear into a new knitted pullover via a ring yarn made from a blend of 65 percent recycled cotton and 35 percent virgin polyester. The key innovation here is the high proportion of recycled fibres from post-consumer textiles for a ring yarn of this fineness. Today, mainly coarse rotor yarns for low-quality textiles are spun from these materials. The industrial partners participating in the Walk4Recycling are partners of the Recycling Atelier and contribute with their technologies to the fact that fibre material from old clothes can be processed in various process stages into a yarn of new value and high-quality ready-made garments.

The Walk4Recycling offers visitors the opportunity to experience a complete recycling cycle with the numerous process stages from tearing the old textiles, preparing and spinning the fibres and knitting a new jumper live during the fair. Get detailed information on the mechanical recycling of clothing via QR code, website and flyer about the participating exhibitors and their machines and technologies. A short movie will give you additional insights into the various processes involved in the production of the jumper.

The ring spinning tester of the Institute of Textile Technology of RWTH Aachen University also processes the fibre mixture of recycled and new fibres during the fair and is thus part of the Walk4Recycling.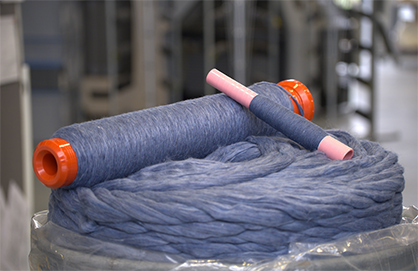 © ITA
With its knowledge of these processes and technologies, the Recycling Atelier offers training courses and workshops on recycling and the circular economy, as well as concept studies with prototype production, support in industrial implementation and the development of new business models.

Visit our stands H3-B304 and H3-A207 and take the Walk4Recycling with us - we look forward to seeing you!

Related News
More News from Institut für Textiltechnik of RWTH Aachen University (ITA)

Latest News