ITMA 2023
2023-05-01
Mahlo shows an overview of all sectors at the ITMA 2023

© 2023 Mahlo
At ITMA 2023 German machine manufacturer Mahlo GmbH + Co KG is hitting the zeitgeist with its latest developments for process optimization. Increasing productivity and saving costs at the same time: visitors can see how this is possible at booth H18 - C108.
"Transforming the World of Textiles" is the motto of this year's ITMA from June 8 to 14 in Milan. The theme could not be better chosen. Not only are the tasks of textiles becoming increasingly diverse, but the focus of their production is also shifting. Producers are performing a balancing act between sustainability and economically viable production in the face of steadily rising energy costs and a shortage of raw materials.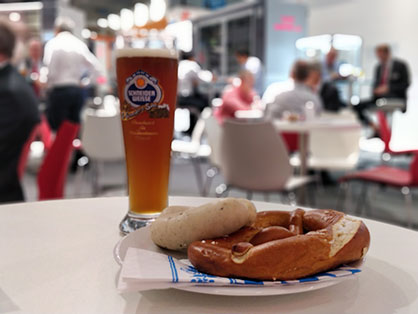 © 2023 Mahlo
New ways in textile production
"Textile machinery manufacturers and textile producers are working ever more closely together to create a more sustainable future for the industry," says Mahlo Head of Sales Thomas Höpfl. His company is just the right partner for this, he adds. The broad product portfolio in the field of measurement, control and automation technology covers almost every textile application. "Thanks to our modular system architecture, we find individual solutions for our customers to optimize their production sustainably." At ITMA, visitors can therefore expect an overview of all sectors of the machine manufacturer. Public product presentations with changing themes will provide concise information on the most important systems.

Straightening machines
For almost 80 years, the name Mahlo has been synonymous in the textile industry with high-quality automatic straightening machines and process control systems. The recipe for success from decades of experience coupled with the latest technological developments has made Mahlo the world market leader in the field of straightening and control. Mahlo also intends to set the highest standards in distortion detection and correction with the new Orthopac RXVMC straightening concept, which will be presented for the first time in Milan. The system can remove distortions in textile fabric webs even faster and more precisely.
Process control and QMS

Process control systems are a must in modern textile production. They not only ensure quality, but above all contribute to the efficient use of the machines. Thanks to control of exhaust air, fabric temperature, dwell time and moisture, only as much energy and raw material is consumed as is really needed. Also on show in live operation are the Patcontrol PCS for pattern recognition and the Famacont PMC for controlling weft and stitch course density. Both systems help producers to maintain the residual shrinkage values they guarantee. Interested parties can get an explanation of how they work at the Mahlo booth, and fabric samples they bring along can be tested on site.
Related News
More News from Mahlo GmbH + Co. KG

Latest News