ITMA 2015
2015-10-15
Picanol to present new rapier & airjet innovations at ITMA Milano 2015

Picanol OptiMax-i 4-R 190 denim (c) 2015 Picanol
On the occasion of the ITMA Milano fair (which is being staged from 12-19 November 2015) Picanol will be presenting a wide variety of new airjet and rapier weaving machines. The year 2015 sees Picanol celebrating 40 years of manufacturing rapier weaving machines with the global launch of its new OptiMax-i and TerryMax-i machines.A further highlight at the upcoming fair will be the TERRYplus Summum.
International debuts for Optimax-I, Terrymax-I and Terryplus summum
To ensure it places maximum focus on its weaving machines capacities, Picanol will be presenting its machines in a brand new booth design at the ITMA fair.
Its new booth will have a special zone situated in the center that will be occupied by an OMNIplus Summum airjet weaving machine with new features. Picanol will have ten weaving machines on display at its booth (Hall 1, Booth D 101) and will be weaving a wide array of fabrics including shirting, denim, terry and automotive right through to technical fabrics. In addition, a Picanol OptiMax-i with jacquard will be on display at the Bonas booth and an OMNIplus Summum will be demonstrated at the Stäubli booth.
Celebrating 40 years of rapier machines with the OptiMax-i
Picanol has an extensive track-record in regard to the production of high-tech rapier machines.
"The year 2015 means that it is exactly 40 years ago that we launched our very first weaving machine with a rapier insertion. Since the launch of the first rapier all the time ago, we have sold over 90,000 rapier machines throughout the world. As our very first rapier was presented to the world at the ITMA Milano fair in 1975, we are delighted that Milan will once again be the stage for displaying some of our rapier innovations" explained Johan Verstraete, VP Sales, Marketing & Services at Picanol. "With industrial speeds of up to 750 rpm, the new OptiMax-i is now unquestionably the fastest rapier weaving machine in the world that is industrially produced. Highlights of the new rapier include the increased performance, rigid construction, new applications, intelligent energy efficiency, improved ergonomics and user-friendliness. The OptiMax-i is available in reed widths ranging from 190 to 540 centimeters. Thanks to its optimized rapier drives it remains the fastest rapier machine with the Guided Gripper system (GC) and the most versatile one with the Free Flight system (FF)." The Guided Positive Gripper (GPG) system has been developed for dedicated technical fabrics. Thanks to the revolutionary Free Flight Positive Gripper system (FPG), weavers are now able to combine and freely mix the most challenging filling yarns. Other features developed to respond to an ever increasing demand for versatility include, among other things, the Electronic Filling Tensioner (EFT), the SmartEye filling detector and the SmartCut filling cutter.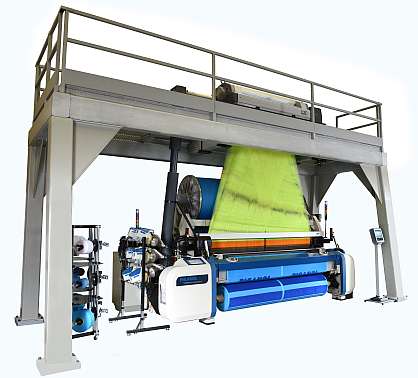 Pic: TERRYplus Summum 6-J 260
New weaving machines for weaving terry cloth
The ITMA fair will also see Picanol presenting its new TerryMax-i (rapier) and the new TERRYplus Summum (airjet) weaving machines, both of which have been developed for terry cloth. This makes Picanol the only provider on the market that offers both airjet and rapier terry machines.
The direct electronic drive of the cloth fell mechanism guarantees a perfect pile formation and enables weavers to not only program the pile height loop by loop, but also to program the pre- beat-up distance of every single filling yarn, which in turn enables endless design possibilities. Features include OptiSpeed, pile height monitoring and needle roller control.
"Following our previous participations at ITMA Milano in 1959, 1975, 1983 and 1995, we are very much looking forward to returning to Milan once again and demonstrating our new rapier and airjet technologies to the textile world. Picanol offers the best mix of machines and services that enable weavers to create every type of fabric imaginable. In line with our marketing campaign 'Let's grow together', everyone at Picanol endeavors to ensure that our machines are more energy-efficient, more versatile, user-friendly and easy to set. This means that we can continue to demonstrate that we are the technology leader in both airjet and rapier weaving machines" explained Johan Verstraete.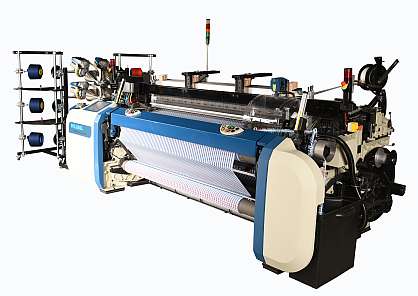 Pic: OMNIplus Summum 6-R 190 Shirting
Picanol weaving machines represent a synthesis of technological know-how and experience that has been built up over almost 80 years. This has resulted in more than 350,000 machines being produced. Picanol is proud to confirm that it currently has more than 175,000 weaving machines running in some 2,600 weaving mills throughout the world.
Weaving machines on display at the Picanol booth:
Rapier machines:

OptiMax-i (4 – P – 540), technical fabric
OptiMax-i (4 – R – 190), fancy denim
OptiMax-i (4 – R – 190), filter cloth
OptiMax-i (8 – J – 190), decoration
TerryMax-i (8 – R – 260), terry
Airjet machines

TERRYplus Summum (6 – J – 260), terry
OMNIplus Summum (4 – P – 190), lining
OMNIplus Summum (6 – R – 190), shirting
OMNIplus Summum (4 – R – 190), automotive
OMNIplus Summum (4 – P – 280), sheeting
Weaving machines on display at other booths:

OptiMax-i (12 – J – 340), decoration (rapier, Bonas booth)
OMNIplus Summum (4 - J – 190), African damask (airjet, Stäubli booth)
Related News
More News from Picanol

Latest News