Exhibitions & Events
2021-09-23
ShanghaiTex 2021 branded as "Textech Inno Week" - Online + offline events in November, opening new page of the industry

© 2021 ShanghaiTex
Since its debut in 1984, the biennial event "International Exhibition on Textile Industry" has long been seen as an important platform gathering industry professionals for sourcing textile technologies, exploring new ways of application, new market and technological exchange. Along with the changing business modes in the post-pandemic era, the 20th International Exhibition on Textile Industry (ShanghaiTex 2021), scheduled on 23-26 November, 2021, is upgraded by adopting the hybrid mode for its first time, combining Online Exhibition (www.ShanghaiTex.cn) and Physical Events in Pullman Shanghai Skyway Hotel.
Focusing on 5 Innovations, it provides opportunities for the industry professionals of the entire industry chain, including textile machinery and equipment manufacturers, yarn suppliers, apparel fabric suppliers, clothing suppliers, designers of Shanghai Fashion Week, academic experts, to explore government policies at a macro-level and analyze the future trend, opening a new page of the industry.

Breaking the Time and Geographical Constraints by Combining Online and Offline Modes

This edition will be branded as "Textech Inno Week" and conducted in a hybrid mode combining online platform and offline exhibition zones, offering a brand new cross-platform experience of textile, technology and innovations. Online Exhibitions include online procurement, new technology releases, online exhibitor interviews, business appointment, business matching, etc., allowing industry players to stay closely connected via internet despite the time and geographical constraints. Meanwhile, Offline Exhibition Zones gather experts from the industry. Through international conferences, forums, business matching activities, featured theme zones and other concurrent events, the development and interactions among different sectors of the entire industry chain will be discussed and explored. More event details will be announced on show website and social media platform. Please stay tuned.

Focusing on Five Innovations, Starting a New TexTech Future

ShanghaiTex 2021 focuses on the theme of five innovations: Cross-platform Experience, Innovative Technology, New Materials, Revolutionary Designs, E-commerce Business, encouraging the development of the fast-growing sectors in the post-pandemic era while providing an ideal platform full with innovative values and energy for the textile industry and keeping you abreast of the latest updates of the era.

"Innovative Technology" focuses on automation, digitalization and smart production technology. International Forum on Textile Industry and ShanghaiTex Thematic Salons gather industry experts of knitting, dyeing, finishing and digital printing to explore the cutting-edge textile technologies and their applications. The 3rd Artificial Intelligence on Fashion & Textile International Conference (AIFT 2021) brings together researchers, engineers and industry professionals to explore how AI technology development can be applied in the daily operation of fashion and textile industry, covering smart production technology, digitalization, big data, clothing e-commerce, customization, supply chain optimization, virtual fitting and other areas of AI technology development.

"New Materials" promotes health and environmental sustainability. Collaborating with Health Textiles Branch of the China Health Care Association, 2021 Shanghai Healthcare Textile Innovation Showcase cum International Conference deliver the latest information of textile technologies and products while explore the development of healthcare textile industry through exhibition zones and forum. Sustainable Innovations in Recycled Textiles Forum 2021 discusses the current situation and future development of the recycled textile industry. By combining raw materials with technologies, enterprises can receive the latest information of fast-growing sectors such as sustainable and functional products.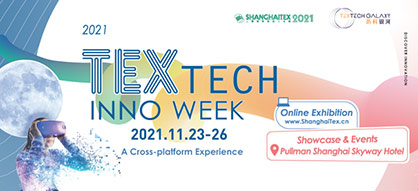 Designers are the important source for innovations. "Revolutionary Designs" generates infinite creativity. Through multiple Thematic Salons, ShanghaiTex gathers enterprises from various categories including design, brand, fabric, ODM and OEM manufacturers, allowing them to reach the latest equipment technologies. Apart from the case sharing of equipment enterprises, famous designers are also invited to the event venue for sharing and exchanging ideas with participants. Catwalk shows demonstrate the latest fashion trend in the textile industry, allowing designs to reach the most advanced areas and technologies while creating opportunities for enterprises and designers to communicate and cooperate.

"E-commerce Business" allows you to understand the latest mode of live-streaming e-commerce. New retail mode sharing sessions and business matching activities will be arranged in the event venue for exploring the new retail mode, studying the operation mode of live-streaming platform and successful cases, initiating discussions between clothing enterprises, e-commerce enterprises and other upstream and downstream sectors, gathering the ideas and concepts of e-commerce and future plans of industry professionals.

Let's explore the Textech Future from 23-26 November, 2021.

Related News
Latest News Exhibitions & Events
More News from TEXDATA International

Latest News