Exhibitions & Events
2020-01-29
ITME AFRICA 2020
Promoting business, social and cultural collaborations through trade at Addis Ababa : 14th – 16th February 2020
With the moto 'Prosperity Through Technology', ITME AFRICA 2020 the first of its kind business and technology event shall be hosted in Addis Ababa, Ethiopia from 14th to 16th February 2020. India ITME Society - a non-profit apex industry body in India, International Trade Centre (ITC-UN), Geneva, a global organisation promoting trade between nations and Ethiopian Chamber of Commerce & Sectoral Associations (ECCSA), autonomous national Chamber of Ethiopia have come together for ITME AFRICA 2020 in order to encourage and facilitate bilateral, regional, intra-regional collaborations to stimulate trade and investment through technology and engineering especially in the textile sector.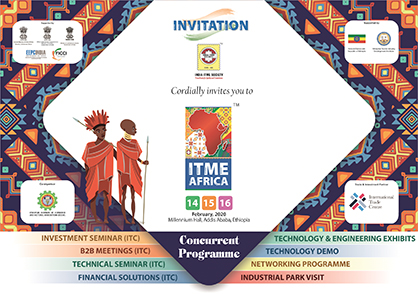 (c) 2020 ITME Africa
This largest technology and engineering event in the African Continent is supported by Ministry of External Affairs (GOI), Ministry of Textiles (GOI), Ministry of Commerce & Industry (GOI), Engineering Exports Promotion Council (EEPC, Govt. of India), Federation of Indian Chambers of Commerce & Industry (FICCI), Federal Democratic Government, Republic of Ethiopia, Ethiopian Textile Development Institute & International Trade Centre. (ITC), Switzerland, Geneva.

ITME AFRICA 2020 shall see a total of 172 exhibitors from 15 countries, highest number of exhibitors, 87+ companies being from India. Country pavilion from Switzerland, Italy, Turkey, China apart from India shall showcase world's best machinery and technology in 23 chapters.

This International Exhibition & Technical Seminar promoted globally for over a year shall see a convergence of business delegations and visitors from 32 countries. ITME AFRICA shall witness industry buyers and visitors from 7 African countries (Botswana, Ethiopia, Ghana, Kenya, Rwanda, Tanzania, Uganda). Once again, registering largest number of visitors.

Offering a 360 degree support and solutions for entrepreneurs and companies interested in doing business with Africa concurrent programs such as Business to Business (B2B), Business to Government (B2G), Business to Finance (B2F) and Technical seminars are organized and is well received by industry members.

To encourage host country Ethiopia and all of Africa achieve self-sufficiency in Cotton production through modern technology, technical seminar sharing the experiences of India and also showcasing the latest award winning technology by Indian Institute of Technology, a premium technology and engineering institute of India is being showcased at ITME AFRICA 2020.

During this exhibition, live demonstration of weaving machine manufactured in India shall be available and then further shall be donated to Bahir Dar University for Student Lab & Research Study, stimulating and encouraging technical education in the country. The event is poised to be a catalyst not only for the textile and manufacturing industry but also for education and research institutes across the continent.

Visitors are invited to:

Explore Business Collaborations

The entry to this event is free, however registration is a must.

The event focusses on :

Manufacturers and Engineering Companies

Mill Owners & Textile Companies

Buyers/ Dealers, Import/ Export Agents, Distributors

Traders, Retailers, Factory and Store Owners

Fashion and Textile Designers

Government Organizations, Overseas Delegation, Industry Association

Students, Researchers, Academicians, Institutes.

Press & Media Professionals

Investors, Private Financiers & Banking Institutions

Apart from encouraging Trade & Investment, ITME AFRICA 2020 shall also influence Cultural amalgamation with fusion music & performance. ITME AFRICA is not just an event but is the beginning of a journey towards self reliance, socio-economic advancement & co-operation for entire Continent of Africa.

This prestigious exhibition shall be inaugurated on 14th February 2020 in the august presence of esteemed dignitaries & Ministers from Govt of Ethiopia and Guests of Honour H.E. Ms. Dorothy Tembo, Executive Director, International Trade Centre, UN, Geneva & H. E. Mr. Anurag Srivastava, Ambassador of India to The Federal Democratic Republic of Ethiopia.

Register to visit ITME AFRICA 2020, 14, 15th & 16th February 2020, Millennium Hall, Addis Ababa, Ethiopia.
Visit the official website to find more information and register:
https://www.itme-africa.com 

Related News
Latest News Exhibitions & Events
More News from TEXDATA International

Latest News