Dyeing, Drying, Finishing
2022-06-09
Baldwin's AMS Spectral UV to spotlight spectacular finishing effects achievable with LED-UV at inaugural Amplify
AMS Spectral UV, a Baldwin Technology company and North America's largest manufacturer of UV and LED-UV curing solutions, will spotlight the various effects its LED-UV technology can achieve in booth 714 at the first-ever Amplify finishing, packaging and design event, taking place June 14 through 16 in Minneapolis. During this exhibition, the company will showcase its XP and XV Series for fast, economical sheetfed offset retrofits, as well as its all-new Quatro Series for high-speed web offset and packaging applications.
Offset and packaging printing technology can cure neon ink, metallic accents and more
"Amplify will be a great opportunity for us to spend time with customers in our own backyard," said Rich Bennett, AMS Spectral UV's President. "We have a full line of world-leading UV and LED-UV curing products, along with unmatched service and aftermarket capabilities, and we are excited to share our latest technology and options to meet printers' curing needs."

Knowing that printers and packaging designers are under increased pressure to catch consumers' eyes, Baldwin's AMS Spectral UV has continued to invest in research, development and engineering to elevate and enhance its LED-UV curing technology. At the event, the company also will have its look book on hand to further show the range of results its systems can achieve, with effects like neon ink, spot gloss, strike-through reticulation and metallic accents printed on a unique array of substrates, from uncoated papers to clear plastics. Many of the effects are difficult or impossible to achieve without the use of LED-UV curing. In addition, the look book features an array of LED-UV cured pantone and neon ink effects used in tandem with the traditional four-color process to layer visual interest.

"If you haven't yet used LED-UV, what are you waiting for?" asked Craig Black, Baldwin's Vice President of Sales, Americas. "Stop by our Amplify booth, where our team will be excited to show you the benefits LED-UV can provide for your business, including significant cost savings."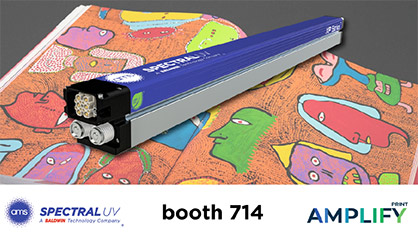 This book replicating detailed artworks was printed by Trifolio using curing technology from Baldwin´s AMS Spectral UV. © 2022 Baldwin
Related News
Latest News Dyeing, Drying, Finishing
More News from Baldwin Technology Company Inc.

Latest News