Denim
2022-11-22
Denim PV Milan welcomes Officina39's Multicolor Denim Dreaming collection.

© 2022 Officina39
The Multicolor Denim Dreaming SS24 collection is a powerful combination of several Officina39's cornerstones and innovations: the technological possibilities of the Italian company are always evolving in order to consume less and reuse more.
Color experimentations are the signature of the SS24 collection, with sustainability as top priority: a journey based on high-quality collaborations and partnerships.

The collection is unique especially in its ability to explore color possibilities and push the boundaries in terms of both aesthetics and respect of the planet and the people:

Nebudye D, a wide range of fresh colors to obtain a unique dyeing effect in nebulization/fog system machinery and can be discharged in a creative way with Oz-One Powder, an advanced product to give garments a bleached yet eco-friendly treatment, and Remover IND/J-N, Officina39's solution to replace the use of Potassium Permanganate (PP) on denim and obtain a worn and distressed vintage look.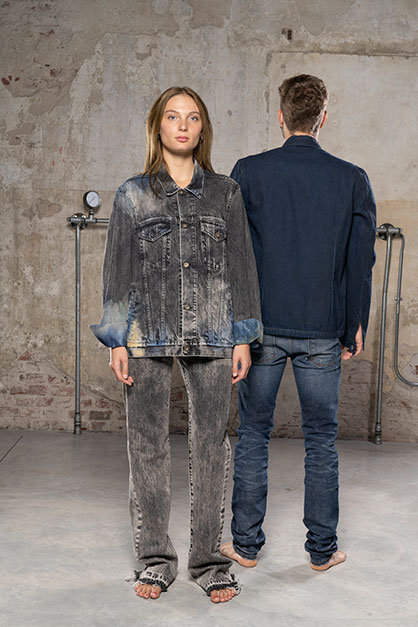 © 2022 Officina39
Novantic series: a combination of selected dyestuffs with a special mordanting agent suitable to obtain surface dyeing to provide vintage or old look effects.

RecycromTM: a patented dyestuffs range obtained through a cutting-edge upcycling process that involves textile fibers from used clothing and manufacturing waste for dyeing and printing applications. Its sustainable and revolutionary powders assure a whole universe of denim effects: from classic authentic vintage to acid wash look (Eco Marble), from printed effect (Indigo Replica) to worn and distressed vintage look (RecycromTM Dirty).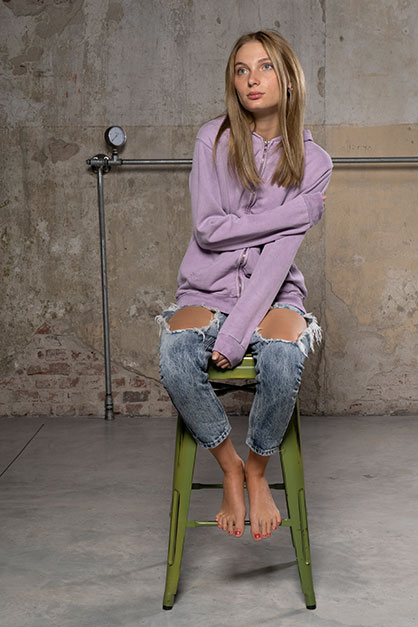 © 2022 Officina39
Remover Activator: a technology that in combination with PP replacement products creates in one step general bleaching, localized corrosion and highlights effects on jeans.
Just One Step Process, takes the Aqualess Mission (the combination of four processes that allows garment laundry processes to reduce 75% of the water use) a step further, combining several phases of it at the same time, saving time, energy, space and of course water. That means that a raw garment enters the machine and a garment with a basic vintage effect comes out ready to be dried, already treated, bleached and softened.

Two of the Aqualess Mission technologies, Aqualess Aged, to replace the old Pumice Stone treatment, and Remover IND/J-N are bluesign® APPROVED products and play a special role in a capsule installation at Denim PV Milan. In occasion of the 20+ year celebration of bluesign® SYSTEM, Officina39 and Prosperity as SYSTEM PARTNERS have in fact joined forces with bluesign taking part in the "Denim Then and Now" project. The aim of the installation is to show through concrete garments exposition how bluesign and its partners including brands, manufacturers and chemical suppliers, have been implementing the bluesign® SYSTEM to improve environmental performance, worker health and safety, and resource consumption to create the highest level of safety for people, planet, and consumers.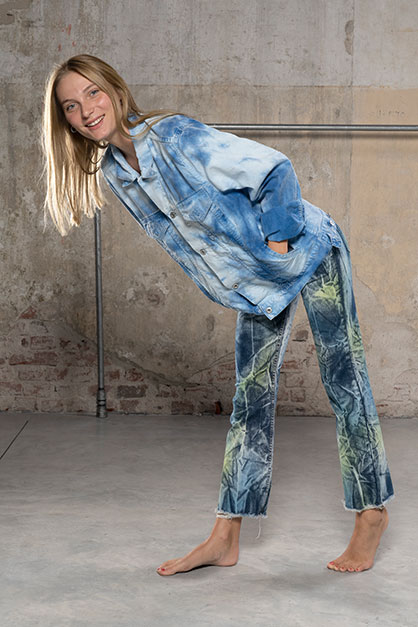 © 2022 Officina39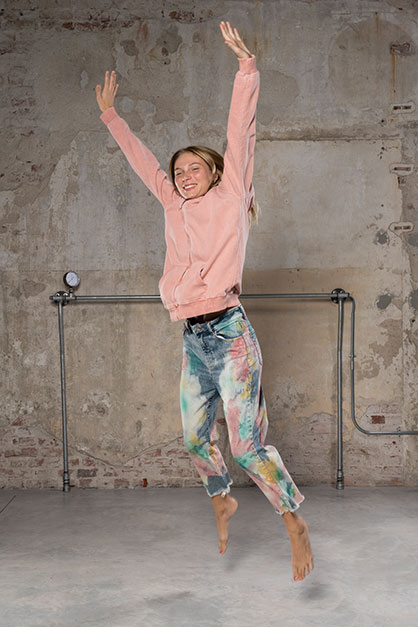 © 2022 Officina39
Related News
More News from TEXDATA International

Latest News