Composites
2023-03-29
Less C02 consumption + sustainable + recyclable = composites made by ITA at JEC World 2023
Sustainability first - this is the principle of the Institut für Textiltechnik (ITA) of RWTH Aachen University in hall 6 booth S74 at JEC World 2023. ITA combines various lightweight construction technologies to reduce C02 emissions and to use renewable and/or recyclable raw materials. ITA presents innovations in the production of reinforcing fibres and in the textile processing of high-modulus fibres. It also shows the impregnation of high-modulus fibres with thermosetting and thermoplastic matrix systems.
Experience a production technology that continuously produces tubular reinforcement profiles! The production of these reinforcement profiles is based on thermoplastic matrices and wound semi-finished reinforcement textiles.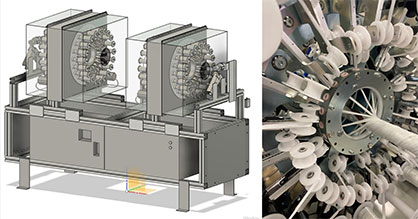 Winding unit for the continuous production of fibre-reinforced thermoplastic pipe profiles, source: ITA
At the ITA booth, you will be able to experience and discuss the entire process chain from fibre production and processing to the finished component with innovations at all levels. We offer you cooperation along the entire process chain for composite production and in the investigation and development of sustainably designed processes and products.

ITA will be exhibiting at Stand Hall 6 S74 together with Textechno, Mönchengladbach, Germany, textile testing equipment and Maruhachi Fukui, Japan, Thermoplastic Composite Material Systems. The Interreg AACOMA project will also be presented at the stand.

Please visit ITA in Hall 6 Stand S74!

Related News
More News from Institut für Textiltechnik of RWTH Aachen University (ITA)

Latest News