Textiles & Apparel / Garment
2018-11-12
Inaugural adidas x Woolmark Performance Challenge winner announced
Finalists (c) 2018 Woolmark
Alicia Ferreira de Sousa from L'École de la Maille de Paris was announced the winner of the inaugural adidas x Woolmark Performance Challenge, presented at a special event during Outdoor Retailer, Denver, Colorado. The Woolmark Performance Challenge is a new annual competition for tertiary students aimed at pushing the limits of product innovation and is set to kick-start the career of Alicia.
The award was judged by a highly esteemed panel of judges, including Amanda Parkes - Chief Innovation Officer, Fashion Tech Lab; Christopher Bevans - Creative Director & Owner, Dyne; Jamie Lisanti - Special Projects Editor, Sports Illustrated; Julie Davies - General Manager, Processing Innovation & Education Extension, The Woolmark Company; Kristin Hostetter - Editor in Chief, SNEWS; Louis de Vos - Talent Acquisition Manager, adidas; and Tillmann Studrucker - Senior Design Director, adidas.
Alicia was praised by the judges for her entry.
"As an aerobic gymnast, Alicia brought her knowledge of the body's movement and combined it with science to highlight the functionality and benefits of Australian Merino wool's properties. She found a way to bring this together with a unique and technical innovation, that is applicable to many sports," explained Jamie Lisanti, Sports Illustrated.
Fellow judge Tillmann Studrucker commented: "It is incredible how many great innovations we saw from students in this open collaboration between adidas and The Woolmark Company. It was not easy to nominate the final winner. In the end, we went for the person who shared the number one principle of our founder Adi Dassler - 'only the best for the athlete' - helping them to perform better in their sport using the benefits of wool. I want to thank everyone involved in making this competition a success and for giving these students a platform to show their talent."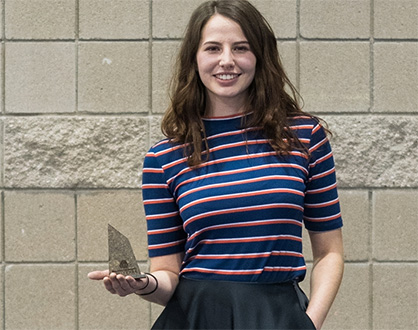 Alicia Ferreira de Sousa from L'École de la Maille de Paris was announced the winner of the inaugural adidas x Woolmark Performance Challenge. (c) 2018 Woolmark
"Winning the Woolmark Performance Challenge marks the beginning of an aspiration coming true: a sportswear specialization to engage my own wellbeing and confidence in sports performance," said Alicia. "My main goal was to make a textile that connects and communicates with the body; and Merino wool supports the wearer's needs in any situation or environment to enhance performance."
Alicia will now receive a cash prize of €10,000 (approx. $11,300 USD), a three-month internship with adidas, the opportunity to sell the winning idea along with ongoing industry and training support from The Woolmark Company.
More than 500 students from 58 universities across Europe and North America registered to take part in the adidas x Woolmark Performance Challenge. The 10 finalists were:
Alicia Ferreira de Sousa - L'École de la Maille de Paris - France
Christel Thue Høgsted - University of Oregon - USA
Inga Grether - Albstadt-Sigmaringen University - Germany
Jeni Allison - Heriot Watt University - UK
Lihong Lao - Cornell University, Department of Fiber Science & Apparel Design - USA
Marlies Reukers - Amsterdam Fashion Institute, HvA - Netherlands
Martin Stricker - ECAL (École Cantonale d'art de Lausanne) - Switzerland
Olivia Echols - University of Oregon - USA
Phoebe Edwards - Nottingham Trent University - UK; and
Youngmi Kim - Institut Français de la Mode - France.

Related News
Latest News Textiles & Apparel / Garment
More News from Woolmark International Pty Ltd

Latest News