Textiles & Apparel / Garment
2018-10-25
Moroccan textile industry with specialists for fast fashion and denimwear at MAROC IN MODE

(c) 2018 Maroc in mode/Jandali
1.853 visitors from 22 nations used MAROC IN MODE - MAROC SOURCING to research new production companies and to intensify and concretize already existing contacts. Fast fashion and sustainable production were the focus of the visitors, and the quality of the production impressed many visitors.
1,853 visitors, including high-brand companies and the top list of vertical providers
Fast delivery times, being able to respond quickly to trends, are extremely important factors to stay competitive. With the fast-fashion concept, the industry has changed a lot. Flexibility in the procurement and production of samples, small series in a very short time are required and give this ecosystem in Morocco a significant competitive advantage. Another advantage is the proximity to Europe, which further boosts production speed. Also the exemption from duty due to the EU agreement facilitates the movement of goods.
1,179 visitors came from Morocco and 674 from worldwide: 32% of visitors came from France, followed by Italy 8.5%, UK 8%, Portugal 7%, Spain 7%, Germany 6.5%, etc. The visitors were from all trade areas such as fashion companies, chain stores, online retailers or brand-strong fashion manufacturers, from discounters to luxury designer brands.
Morocco's most important economic sector on growth course
Today, Morocco is one of the top ten garment producers in the EU and second largest supplier to the Mediterranean countries. "The Moroccan garment industry is experiencing tremendous momentum, despite the strong international competitive environment, and since 2012, the Moroccan clothing sector has been growing steadily, with last year's record of 37 billion dirham (€ 2.65 billion) in exports," said Mohamed Tazi, General Director of AMITH, organizer of MAROC IN MODE in partnership with Moroccan Ministry of Industry, AMDIE (Moroccan Agency for the Development of Investments), and Banque Populaire Group.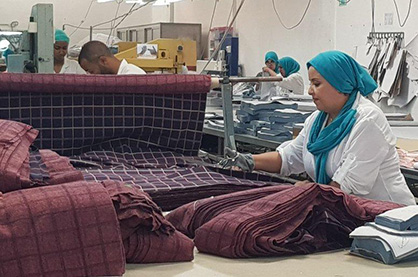 (c) 2018 Maroc in mode/Jandali
The textile industry is strongly supported by the government, and the PAI (Plan Acceleration Industriel) is investing heavily in the development of this important industry with 200,000 jobs and 1,600 companies, Morocco's largest employer. Morocco is one of the few countries with a concerted strategy for the development of the textile sector. These included identifying the eco-systems and their locomotives that attract and support the smaller companies in each segment: Fast Fashion, Denim, Knit, Technical Textiles, Home Textiles, and Industry Retailers. The plan has worked, the positive momentum is evident in all regions of the country such as Casablanca, Tangier, Rabat etc. and in all eco- systems.
AMITH announces further cooperation
Another step in promoting Moroccan production exports is the announced collaboration between AMITH and AMDIE with the International Trade Center (ITC), a joint organization of the WTO and the United Nations based in Geneva. The GTEX program aims to strengthen the export competitiveness of the Moroccan textile and clothing sector, creating added value throughout the value chain. More than 30 small and medium-sized companies from the fields of fast fashion, denim and knit are coached by experts from training to export marketing and networked with new markets and customers.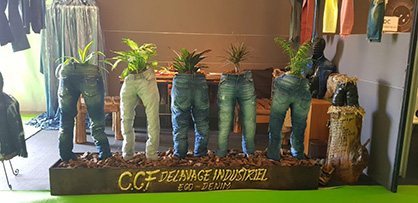 (c) 2018 Maroc in mode/Jandali
MAROC IN MODE - MAROC SOURCING: a condensed overview of the offer of the Moroccan clothing industry
128 exhibitors from 9 countries covering the ecosystems Fast Fashion, Denim, Knit, and Tailored Fashion etc. were very satisfied with the results of the fair. The companies have especially praised the new contacts with dealers and brands from Northern Europe such as Germany, the Netherlands and Sweden. Catering to the needs of these customers, Moroccan producers are now accepting smaller volumes or special size tables, such as Abderrahmane Atfi, owner Medsourcing: "We believed in the concept of the young French online platform `Envie de fraize ́ for maternity wear and started with very small delivery quantities. The company has become a whiz kid and we are happy that we have grown together. "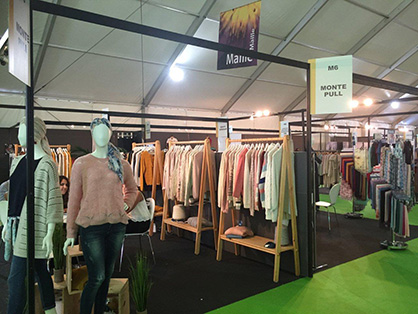 (c) 2018 Maroc in mode/Jandali
Fast Fashion and Ecology at MAROC IN MODE
The largest offer was made by the fast fashion sector with more than 40 suppliers, followed by denim. Here eco-jeans are a "must": The Moroccan Denim Cluster presented more than 20 companies at the fair, which almost exclusively use denim fabrics that have been treated with a laser / ozone technique, methods that need environmentally friendly little water for the finishing of the fabrics. The technique comes from the Spanish company Jeanologia. Joseph Vercher, Jeanologia Director Europe, presented the procedure in a lecture at MAROC IN MODE. The fabrics are supplied by producer Evlox, an exhibitor at the fair, who works with all major Moroccan denim producers. Sustainability was also an issue for other companies, such as Apparel Mills, and Temasa Tétouan Maille (Kunert Fashion GmbH Morocco), which offer eco-cotton yarns. Apparel Mills has presented itself for the first time as a merger of four companies with the production chain from knitting, dyeing, printing and production at MAROC IN MODE and was enthusiastically praised by a German visitor as an option for "one-stop shopping".
Environmental management, textile eco-design and new technologies in focus of the lecture series at MAROC IN MODE - MAROC SOURCING
The attention of the exhibitors and visitors was attracted by the presentations on sustainable textile production and the change in the global production and procurement processes at the trade fair.
ZDHC (Zero Discharge of Hazardous Chemicals) program speakers talked about corporate environmental management as a holistic approach to tackling hazardous chemicals along the entire value chain, a program that has already been joined by Moroccan companies.
A common sustainability concept and a uniform assessment of sustainability performance by apparel producers through the HIGG INDEX was the topic of Baptiste Carrière Pradal of the Sustainable Apparel Coalition (SAC).
Possible changes in the production process due to Industry 4.0 and their benefits presented Abdelaziz Sifaoui, Director Lectra and exhibitor at MAROC IN MODE. AMITH launched a think tank strategy for 4.0 a year ago and designed a sector plan for human resources. Moroccan manufacturers need to prepare for the factory of the future by developing their technological ecosystem and training the staff accordingly.
Exhibitor Mr.Mouafak Aouf, General Manager Bonneterie de l´Atlas said: "We are a large group of different companies that cover shirts, underwear, socks and tights, hats and now also suits.70-80% of our production is meant for export, mainly to France. Our company "Comforea" is specialized in underwear and socks/tights for men, women and kids. The production encompasses all price levels from market entry level for supermarkets and discounters up to luxurious brands such as Kenzo or Paul Smith. Our strategy is to not demand minimum quantities to be competitive and to be flexible for our clients while offering fast delivery.
We also want to work with customers that do not need very large quantities. We have customers in the UK, Spain, many in France (e.g. Paul Smith, Jacadi). Unfortunately we do not have any customers in Germany yet, but we had some interesting talks with German visitors at the fair including a big German retailer and would like to work with the German market as well. There were about 6 promising visitors from Germany and France that we talked to, plus visitors from Portugal. This is our 3rd or 4th time at Maroc in Mode and we appreciate the professional organization by Amith. It is a very good occasion to meet customers and exchange ideas and business opportunities."
Sonja Ruppert, Director Buying, Production & Supply Chain at Marc O'Polo said: "We visited Maroc in Mode for the first time and were able to get a good overview of the range of Moroccan production and even select companies that might be potential partners. We initiated the next moves with some producers, such as the compiling of profiles. Thereafter we will have to visit the companies on-site. The fair visit was worthwhile. Morocco is certainly interesting as a production location."
And Erwin Licher, CEO and owner of the company Herrlicher stated: "We visited Maroc in Mode for the second time to explore potential producers for our womenswear collection. We talked to some very interesting companies, contacts that we will now follow up on. For us the fair was definitely worth the trip. It gave us a very good overview of the production offering in Morocco."
The next edition will be in Marrakech, October 25-26, 2019.

Related News
Latest News Textiles & Apparel / Garment
More News from TEXDATA International

Latest News